Mango Direct Marketing have announced the creation of 55 jobs at their Bangor based contact centre as part of an initiative with Invest NI.
The company, which currently employs 70 staff, will receive £165,000 investment from Invest NI's 'Boosting Business Initiative' which will see their staffing levels increase to 125 .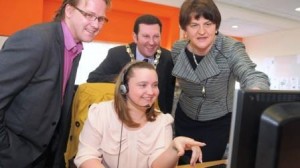 Commenting on the announcement Stuart Lally, Managing Director of Mango Direct Marketing, said
"Support from Invest NI through the Jobs Fund will also enable us to put in place the staff we need to take advantage of new business opportunities in the corporate sector and cement our competitive position in key markets."
Enterprise Minister Arlene Foster said:
"Mango is a successful business that has achieved a steady increase in sales over the past five years. This expansion is an important progression in the next stage of Mango's development and signals the company's ongoing commitment to the local area.
"The jobs are being supported by Invest NI Jobs Fund and will enable Mango to take on major new contracts in its key target markets. The business services sector is an important driver for the economy and it is encouraging to see companies investing in growth even in these difficult times."
Caption: Stuart Lally, Managing Director, Mango Direct and employee Natasha Heywood, Wesley Irvine, Mayor of North Down Borough Council and Enterprise Minister Arlene Foster.