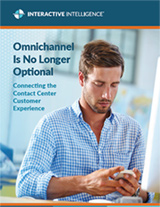 Customer + Choice + Channel = Max Retention
No matter how a customer chooses to interact with you – digital, voice, or online – it's critical for your contact centre to embrace omnichannel. Modern customers expect a seamless experience, no matter what channel they choose.
In fact, when you give customers a true omnichannel experience, your chances for customer retention triple.
Learn more in our latest eBook, Omnichannel Is No Longer Optional.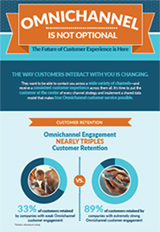 Digital channels have begun to outpace phone customer support. Contact centres that don't adapt to technology trends will fall behind, and quickly. Evolution is the key to success.
Download our latest infographic and display it to help your team keep omnichannel at the centre of your contact centre strategy.
Download the infographic
For additional information on Interactive Intelligence visit their Website or view their Company Profile