Jabra UK & Ireland Business Solutions enhances its Sales department with the appointment of a new Channel Account Manager, Joanna Waters.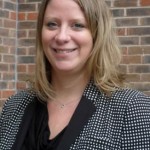 Jabra Business Solutions is delighted to welcome Joanna Waters into the UK & Ireland Business Solutions team in the role of Channel Account Manager for the UK.
Jo arrives from Sennheiser where she held the roles of Dealer Sales Manager and Distribution Manager during her 7 years tenure with the headset manufacturer.
Prior to this Jo worked as Reseller Sales Manager at Samsung, Corporate Reseller Account Manager at Xerox and Distribution Manager at Kyocera, gaining an impressive 20+ years' experience in channel management and development.
Nigel Dunn, Managing Director, Jabra Business Solutions UK & Ireland greeted Jo by saying
"We are delighted to welcome Joanna to Jabra and believe that she is an excellent addition to our channel sales team. Having already-established relationships with key Jabra partners will fast-track Jo's induction period and allow her to quickly start working with the partners in her territory to support them in enhancing their headset revenues by leveraging the Jabra brand.
Jo will report into Robert Stockford, Channel Sales Director, (See Robert's Appointment) who commented
"Joanna brings a wealth of channel knowledge and specifically headset market experience to the Jabra UK channel team. In previous roles she has worked with both distribution and reseller partners in the IT and communications space and has a proven track record in "on-boarding" and developing partners business. This perfectly aligns itself to our channel strategy of deeper and broader engagement across these partners. Jo will manage a number of key UK distribution and reseller partners, as well as helping to explore new opportunities as part of our evolving "Go to Market" strategy."
Jo commenced her new role at Jabra on Mon 18th August and has spent her first few weeks in a series of induction and training sessions at Jabra UK & Ireland HQ in Egham, Surrey, as well as engaged in introduction meetings with authorised Jabra channel partners in her territory.
For additional information see Jabra's Company Profile