contact-centres.com interviewed GoResponse 's Managing Director Mark Kirby and discussed a range of topics such as how did GoResponse start- how they are different in the compertive outsource market with Mark plugging his conection with a certain Ronan Keating.
What was your reasoning behind launching GORESPONSE?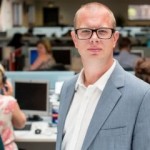 I launched GoResponse back in 2003, when I saw a gap in the market for outsourced call centres. My history was also a key factor – I had worked for an International franchise company early in my career, where I had helped get around 50 small businesses off of the ground.
I then decided to set up a small business myself, providing lead generation and direct marking services to other small businesses.
This ended up leading me to see the demand for handling incoming enquiries, and the idea for GoResponse was born!
How did you start?
I was keen to grab the bull by the horns so I spent a couple of evenings setting up a website as a starting point to see how much interest there would be. Almost immediately I began receiving enquiries and I saw the demand was there. I took some office space on Kent Science Park in Sittingbourne with four staff members. After building solid relationships with clients of all sizes (from small businesses all the way up to large corporates), we've since grown into bigger and bigger offices and we now employ around 130 people.
What thing was the pivotal point contributing to the success of GORESPONSE?
I think we grew the business consistently over the last ten years, and that consistent growth has been a real strength. However, I know for me personally there were several key moments that I saw as pivotal. We
"I knew we had landed when we started to work with household brands such as Burger King, Panasonic and Virgin Media"
moved to bigger premises in 2005 and again in 2011 and both of these signified gear changes for the business. I think going 24/7 back in 2006 was also a significant milestone. I knew we had landed when we started to work with household brands such as Burger King, Panasonic and Virgin Media.
How has the contact centre changed since the launch of GORESPONSE?
Almost immeasurably! The industry has gone through a myriad of changes, and we've managed to always stay ahead of the curve. The prevalence of email was a big factor, and this has now become all online communications – be it through Live Chat or social media interactions. Even on the telephone side, it's so much more than just taking incoming calls – we offer first line IT support, manage diaries, deal with product recalls, conduct mystery shopper exercises – everything you can think of really!
What's the most important factor at GORESPONSE – Technology or Staff?
100% it is staff. We are constantly investing in leading-edge technology so we can give our customers whatever they need, and can advise them on the best ways to handle their customer service; but all of that is only as good as the people we have operating it. Our operators are with us for around three years each on average – which is a lot higher than the industry norm. We invest in training and ensuring staff are working in a supportive and fun environment, that keeps them engaged and motivated.
What makes GORESPONSE different to other outsource companies?
Our integration with our clients – we work hard to become part of our client's business and an extension of their team. In some cases, clients list their account manager on their website as part of their management structure. Add this to our investment in technology and our combination of phone, email, social media and web chat support; and we offer a very different proposition to our competitors – unified, multichannel customer support.
Best or notable achievement in your business life?
Being named Best Small Call Centre in the EMEA region at the World Contact Centre awards was definitely something to write home about – we then went on to the global finals in Las Vegas and was named third in the world! That was definitely huge recognition for all the work that the entire team at GoResponse was putting in.
What advice would you give to people contemplating a career in the contact centre industry?
Your clients are putting absolute faith in you as they are giving you access to their customers – their most valuable asset. You need to treat this trust with the respect it deserves. I think the people that get ahead are the ones who treat their client's customers as if they are their own. I know these are definitely the people we look for to work at GoResponse. Customer service can be hard, but as customers now have so many options it is more important than ever.
What do you look for in staff applying for positions at GORESPONSE?
They need to be friendly, enthusiastic and enjoy a challenge! Customer service is the key to our business, and operators are the voice of our business so everything they do needs to reflect that commitment. Good written and spoken English is essential – staff need to be able to type at least 30 words per minute with outstanding spelling and grammar. Nothing looks more unprofessional than sending clients messages that are full of spelling mistakes!
Where do you see GORESPONSE in 5 years time?
We are focussing much of our product and service development around the online retailer and have just launched a brand called Cart Rescue – which is dedicated to minimising lost sales as a result of site and basket abandonment.
We are combining the power of technology and the heritage of exceptional customer services to provide a suite of services that will typically increase sales conversions by 10-15%. We have seen fantastic interest in this suite of services and already have one of the major sports brands jump on-board. I see online retail support services as being a big focus for us going forwards. I know my team will continue to keep us at the forefront of technology so I think in five years' time we'll be quite a name in this sector! What is really important here is that these services are pretty much unique in the marketplace allowing us to create a strong position in this ever important sector.
Where do you see yourself in 5 years time?
I enjoy new adventures. I am at my worst when I feel stagnant. What I will be doing? I can't say, but it definitely won't be the same as what I doing today!
Sum up GORESPONSE in 10 words
Agile customer service experts providing integrated omni-channel contact support services
Sum up Yourself in 10 words
Energetic, enthusiastic, creative, positive, quirky, fun-loving, adventurous, excitable, impatient, happy
Have you any interests outside of GORESPONSE?
In my (extremely limited) free time, I play the saxophone professionally. I've performed at a number of gigs, including recently with Ronan Keating in St Tropez. I've performed at staff parties a number of times and I think my staff are always shocked to see me do it for the first time as it's a completely different side of me!