How are UK businesses using AI to improve CX?
Research shows that organisations are very willing to embrace AI technologies
Whilst UK business executives are increasingly interested in investing in AI, with over 80% thinking AI would add value now and in the future, 4 in 5 respondents recognise that there is a lack of knowledge in their organisations when it comes to understanding different AI technologies. This is a key finding from the latest research conducted by Odigo and Davies Hickman Partners with a UK sample of 205 business executives across different sectors in 2020.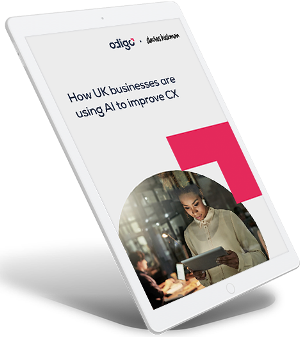 To download the Full Report Click Here
Odigo helps large organisations connect with individuals through world-class, cloud-based contact centre solutions. Its cutting-edge proprietary technologies enable a seamless and efficient omnichannel experience for its customers, and a satisfying and engaging experience for service agents. Odigo serves more than 400,000 agents and business users globally. With a 35-year history of industry firsts, Odigo has more than 250 clients around the world.
For additional information on Odigo view their Company Profile