Foehn's new cloud contact centre VoxivoCX delivers better value with rapid user adoption and engagement
Foehn responds to calls from contact centre managers for reduced time, cost and disruption involved in user adoption and on-going user engagement.


Foehn, the developer of cloud communications, have launched their new cloud contact centre platform, VoxivoCX – This marks the second release from Foehn's Voxivo platform following the launch of Voxivo Cloud Phone System in 2017.
The new cloud contact centre incorporates the ground-breaking simplicity, intuitive operation and ease of management featured throughout the Voxivo suite, all hall-marks of Foehn's design philosophy.
Importantly, the feature-set has been based on a thorough appraisal of requirements taken from market research and feedback from Foehn's SME customer base where contact centre managers are calling for improved agent productivity and reductions in the time and costs incurred on implementation. More rapid user adoption, intuitive controls for operation and stronger user engagement are considered key factors for improving value over the lifetime of the system.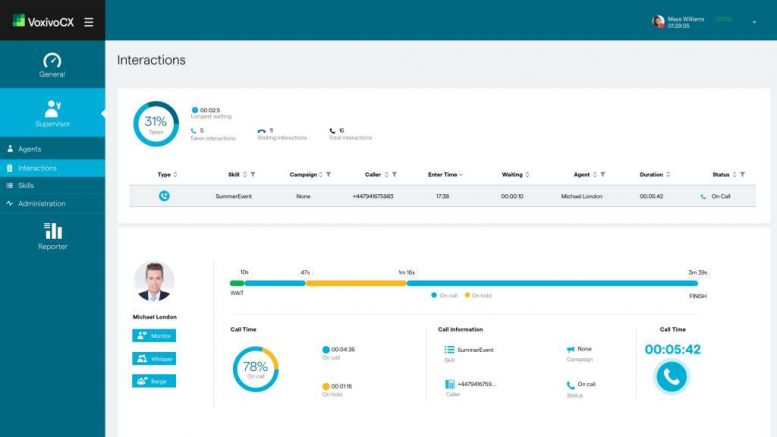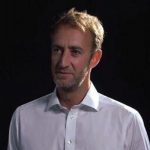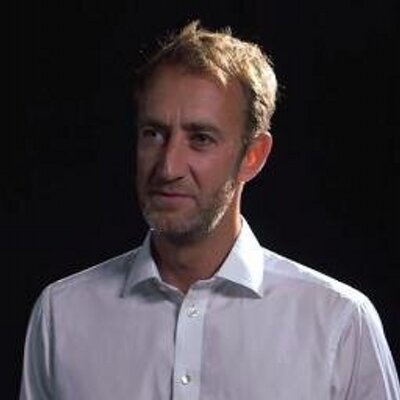 James Passingham, Foehn CTO, explains why:
"The agent is instrumental in the performance of the contact centre system and the quality of the customer experience. That's why agent needs have been central in the design of VoxivoCX."
"Specifically, our clients tell us that the most critical requirements involve rapid user adoption, ease of operation and strong engagement with the system in the longer term. By addressing these issues, the design of VoxivoCX can make significant reductions in the time, cost and resource incurred in contact centre operation."
"In the design of VoxivoCX we've prioritised voice. It's still the most frequently requested communication channel and it's used for the most important interactions. By giving the agent strong voice features, VoxivoCX takes user adoption and engagement to a higher level and delivers additional value from improved agent efficiency."
VoxivoCX delivers features designed around the specific needs of contact centre administrators and supervisors as well as agents. These include real-time monitoring of agents and calls, assignment of rules and skills levels, control of queues and IVR, plus management of extensions and users for optimisation of productivity. Notably, a dedicated interface gives agents intuitive control of a complete tool-set, enabling an agile response during customer engagement. Wallboards and CRM integrations provide insights that drive performance whilst recording, monitoring, whisper, and barge help supervisors support agents and improve their performance.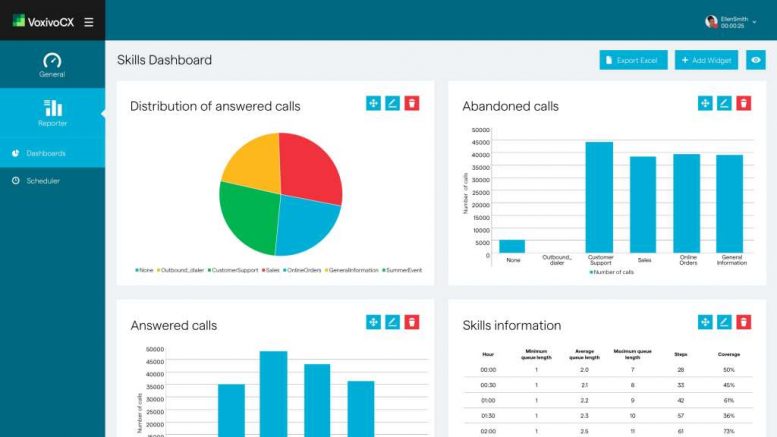 Importantly, supervisors gain critical contact centre insights from analytics, including live performance monitoring, multiple dashboards, wallboards and powerful reporting. An innovative reporting module provides comparison of data across both queues and agents. Pre-built dashboards show key metrics whilst additional, bespoke charts, graphs and tables can be created simply using an extensive choice of graphical 'widgets'.
A common objective for contact centre managers is to focus on improving first contact resolution.
With skills-based routing, companies can ensure every customer gets to speak to the right agents with the right skill, increasing the probability of first contact resolution.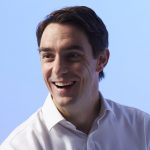 Julian Barrow, Foehn Sales Director, highlights the importance of deployment and support services within the VoxivoCX offering:
"For many of our clients, their legacy systems have evolved over time into a complex integration of hardware and applications and they now seek the simplicity of VoxivoCX."
"It's essential that the transition takes into account the unique operational requirements of each organisation and that's why clients value our experience and implementation services. The impact of business alignment and customisation on system performance cannot be overstated."
"Our system design takes a lean and agile approach compared with others that attempt to do everything and risk 'feature fatigue.' Instead, we focus on the criticality of voice and improved agent productivity. With more rapid user adoption, intuitive controls and stronger user engagement we can deliver real savings in time and cost. This means we can offer pricing that is more competitive and greater value compared with other more complex systems delivering unused functionality."
Offering configurable ACD routing, real-time reporting, customisable agent desktops and self-service IVR, VoxivoCX makes life easier for both the supervisor and the agent. Supported by Foehn's Professional Services team, the platform is fully configurable to business needs and simple to deploy, often within 24 hours. Deployment services include Foehn's own cloud hosting, number porting, SIP trunking and Internet access via leased line or business grade broadband.
---
Additional Information
VoxivoCX pricing starts at £32 per user per month based on a minimum commitment and a 24-month contract.
Full details of features and support services can be found by Clicking Here

Foehn provides cloud communications products, delivering contact centres and unified communications to the private and public sectors.
We continually challenge ourselves to solve problems and build better cloud communications to help you work smarter. By combining our own technology, with uncompromising design principles and the power of open source, we can deliver truly intuitive communications products. This is how we make the complex simple. Regardless of your needs, our experienced team can help reduce the challenges and costs of moving to a new generation of cloud communications products.
We are the ITSPA Best VoIP Software Winner 2018 with customers spanning every sector. We have also won awards for our contact centre implementations as the Genesys PureCloud partner of the Year.