Five years of answering the dog and bone at Dogs Trust Contact Centre
Dogs Trust's national Contact Centre is celebrating its fifth birthday, having answered over 1.5 million calls – not all about dogs!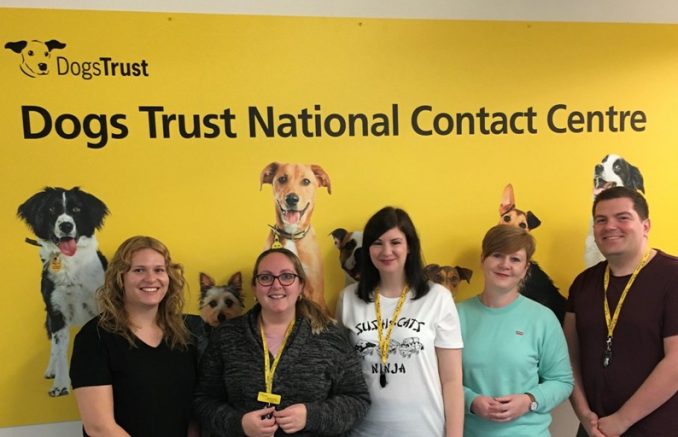 Dogs Trust is the UK's largest dog welfare charity and the Contact Centre, based at Dogs Trust Manchester, handles calls for its 50 public phone lines, including the charity's London head office and its 20 UK-based rehoming centres, which care for more than 15,000 rescue dogs every year.
Contact Centre Manager, Paul Roelake, (Pictured Right) says:
"In the first phase we had just ten people handling calls for three of our rehoming centres. Now we are a team of 65 responding to around 1,500 calls a day as well as e-mail enquiries.
"We also make outbound calls to dog lovers who have adopted dogs from us. We check in with them two days after the dog has gone home, then two weeks later and at four months to check everything is OK and to offer the support of Dogs Trust if needed."
Most calls into the Contact Centre – over 324,000 – have been from people enquiring about a particular dog they would like to adopt. The second highest number of calls, over 195,000, are from dog-owners enquiring about handing their dog over to the charity. The charity has taken more than 35,000 calls from people enquiring about volunteering and more than 20,000 people who have adopted dogs have called to let the team know how well their new four-legged friend is settling into family life.
But calls received aren't always about man's best friend, Paul continued,
"Some of the best calls we take are definitely those letting us know how happy owners and their dogs are. It's always fantastic to hear when our dogs have found their ideal, forever homes.
"But we get some more unusual calls too! We have had calls from someone wanting to hand over a donkey, quite a few requests for us to find new homes for cats, advice as to how we can stop a parrot pulling its feathers out and someone wanting advice on how to care for a hedgehog.
"We do our best to help whatever the enquiry and put people in touch with the correct organisations. However, one of the most memorable calls we have had was from someone wanting to hand over two Koi Carps. We did actually find them a home – in the pond at our West London Rehoming Centre!"
---
Additional Information
Dogs Trust is the UK's largest dog welfare charity and cares for 15,000 dogs across its network of 20 rehoming centres in the UK and one in Dublin. Dogs Trust has a non-destruction policy, and will never put a healthy dog to sleep. The charity also focuses its efforts on understanding dogs and sharing that knowledge with the wider public to prevent problem behaviours that can result in relinquishment or abandonment. We are working towards the day when all dogs can enjoy a happy life, free from the threat of unnecessary destruction.
For additional information on Dogs Trust visit their Website