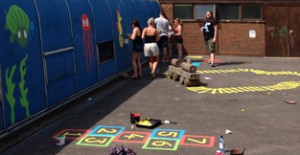 Over 25 staff volunteers of Hertfordshire based contact centre solutions company Eckoh, recently endured the 29?C heat, rolled up their sleeves and got digging, clearing, weeding, painting and repairing at Woodfield School. By the end of the scorching day, the team had transformed the playground and woodland areas of the school into a brighter and more cheerful place for the children to enjoy.
Woodfield is a school for children aged 3-19 with severe learning difficulties. Many who attend the school also have physical or sensory impairment, are autistic or have a genetic disorder so they require specialist facilities and care.
Much of the budget available to the school is spent directly on the children and facilities within the school meaning that they do not have the funds to pay for work on their site. The carers, nurses and parents of the children obviously have their hands full looking after the kids and depend heavily on volunteers who can spare time to do odd jobs around the grounds.
During the day, Eckoh restored the school's overgrown wooded area known as the 'Dell'. Using gardening equipment that was kindly donated by Michael Mitchell at AJW Ltd whose daughter works for Eckoh, the gardens were cleared of weeds and overgrown vegetation. The playground areas, had their fences painted and playground artwork and games for the children added. Both the Dell and the playground comprise an important part in the children's development, used as visual and sensory aids.
"This is the second time that Eckoh employees have volunteered a day of their time to Woodfield School and we were delighted to help them out in some small way again to improve their outdoor surroundings." said Adam Moloney, Eckoh's Finance Director. "The staff and pupils at Woodfield School are incredibly inspirational. Assisting the school in the work they do enables Eckoh to give something back to the local community whilst also being a rewarding experience for the employees involved."
Beverley Hamilton, Woodfield School's Deputy Head, commented "Keeping on top of the grounds and maintenance in the school requires a great deal of time and resource, so help from local businesses such as Eckoh is extremely important to us. We'd like to extend our thanks to the whole Eckoh team who have really helped to transform our grounds and make a significant difference to the school and most importantly to the children
For additional information see Eckoh's Company Profile