Over Two-Thirds of Customer Experience Industry Professionals Believe Immersive CX Will Become a Mainstream Support Channel in the contact centre within the Next Five Years according to Content Guru research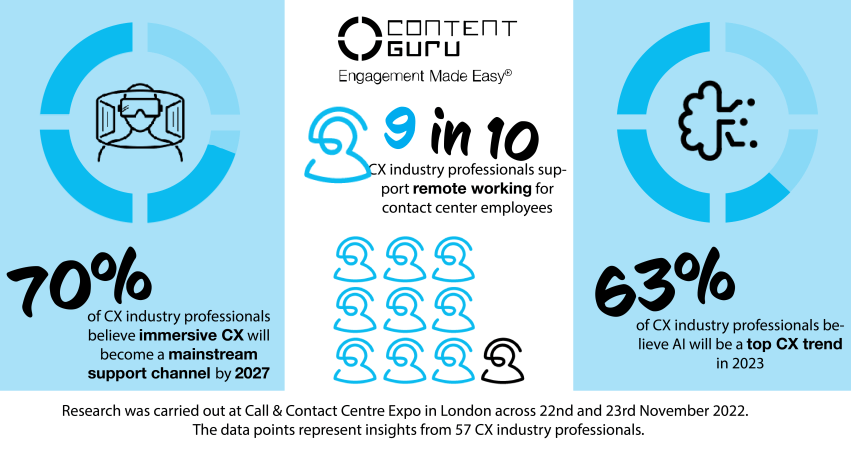 Content Guru, Europe's leading cloud contact centre and customer experience (CX) technology provider, today released research findings that highlight strong belief amongst CX industry professionals that customer support through virtual environments will grow within the next five years. The research, carried out at the Call & Contact Centre Expo London 2022*, highlighted that 70% of respondents see virtual interactions joining traditional and digital methods as a recognised front-line support channel by 2028.
In the more immediate future, 63% of event attendees surveyed believe AI is set to be the technology that defines the CX industry in 2023; with personalisation (46%) and digital channels (37%) also leading the way. When focusing on expected challenges, respondents highlighted that agent recruitment (63%) and attrition (47%) will be amongst the top challenges. CX providers will be working hard to provide the best environment for agents to thrive in. The workstyle will likely continue to include remote and hybrid options, as nearly 9 in 10 (88%) of industry professionals support remote working options for contact centre employees.
The proliferation of digital channels will continue in 2023, but over half of respondents (54%) believe that digital integrations are going to be a common pain point for organisations delivering CX. Digital interactions create valuable data that can be analysed and actioned, but 56% admitted they don't think their organisation uses customer data to the best of its potential.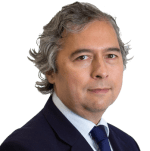 Martin Taylor, Deputy CEO at Content Guru, commented:
"With virtual environments receiving billions of pounds in investment, it is clear to see why expectations for immersive CX are high. The hyper-personalised environments displayed in virtual reality will connect businesses with consumers, catapulting humanity, and in-turn CX, into a new digital realm. However, time will tell how successful the mainstream adoption of virtual environments will be.
The immense capabilities of AI meant it was a key theme of the discussions we had at the Call & Contact Centre Expo, and it's no surprise industry professionals see AI as defining the CX industry in the coming period. Brands must ensure they have the technical capabilities to reap the benefits of AI. If they tap into AI's potential successfully, features such as conversational machine agents and semantic voice analysis with enhance organisations' CX, whilst cutting down on repetitive and monotonous agent tasks that drive frustration and agent attrition."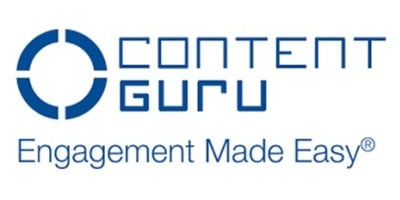 Europe's leader in cloud CX and CCaaS and one of the world's major providers of large-scale, mission-critical services, Content Guru supplies services to over 1,000 large enterprises and government organisations.
Content Guru's cloud-native omnichannel communications solution, storm®, offers virtually limitless scalability, unmatched integration capabilities and industry-leading AI. Content Guru ensures customer experience and contact centers meet the needs of every customer, seamlessly. storm is used by public and private sector organisations across the Americas, Europe and Asia-Pac, in markets ranging from finance and healthcare through to government and utilities. Public sector customers relying on storm for mission-critical services include the NHS, Serco and US Federal Government.
For additional information on Content Guru view their Company Profile
*Research was carried out at Call & Contact Centre Expo in London across 22nd and 23rd November 2022. The data points represent insights from 57 CX industry professionals surveyed at the event by Content Guru.