Contact Centre Property – things to take into consideration; Customers sit at the heart of many businesses, which means that delivering excellent customer service is paramount and often a number one priority.
Unsurprisingly, the growth of the contact centre industry has mirrored that trend with approximately one million people employed in the UK.
The development of the sector has naturally led to companies expanding their property portfolios, as standalone office accommodation is often required to house a vast workforce to deliver the customer services function of a business.
While the number of call centres has risen in recent years, particularly in popular hubs such as Cardiff, Newcastle, Glasgow and Manchester, managing future expansion – in terms of property requirements – is often a topic that falls down the management agenda as other commercial and personnel considerations take priority.
Property agents believe that a significant proportion of enquiries from companies looking to locate to larger premises, are often not circulated promptly enough to enable companies to consider new build opportunities. This leaves businesses with fewer options, with demand far outstripping the supply of suitable Grade A office accommodation and timescales working against those companies considering designing and building a bespoke call centre.
With the contact centre sector continuing to grow, what are the main considerations for senior management to keep in mind, to ensure bricks and mortar don't block their path to expansion?
Commitment
Anticipating future growth and business needs is key when trying to find the right location for a contact centre. It's extremely important that companies commit themselves to appropriate leases which take in to account future spatial requirements.
Commercial leases normally contain clauses for when a tenant wishes to assign or sub-let a lease. This provides the opportunity to recover rent for space that is no longer being used by your business, or in the case of assignment, enables the tenant to assign their entire lease obligations to a third party.
An alternative to assigning or sub-letting a lease is to negotiate break clauses with the landlord. This is a provision (usually, but not always) that allows the tenant to end the lease on a specific date, subject to certain criteria. It's worth noting, however, that the inclusion of break clauses in a lease will normally reduce the incentives (such as a rent free period) available to the incoming tenant or will incur a penalty, such as a one-off payment to the landlord, if the break is exercised.
Contact centres should carefully consider how likely it is that they will require a break clause, as they will be in a stronger position to negotiate an incentive package without a break. Assuming a break clause is agreed, these are the dates that businesses should work towards when assessing their occupational requirements, in order to avoid occupying unsuitable, potentially expensive space in the medium to long term.
Design
While market fluctuations and local business demands largely dictate the availability of commercial premises from region to region, the lack of speculative development over the last few years has seen an increasing shortage of suitable high quality, energy-efficient accommodation for businesses to choose from should they wish to relocate. This presents a particular problem for contact centre businesses, which can often require larger floor plans to house multiple teams. In cases where businesses still struggle to find premises to suit their requirements, the best option may therefore be to consider design and build (D&B) accommodation.
The advantage of purchasing or leasing space off-plan, is that it enables the occupier to influence the specification and design of the building so it meets their specific needs. In addition, there is a significant time/cost-saving when it comes to 'fitting out' the space, as these works can be absorbed into the overall construction programme.
This will ensure they acquire the right space in the best location, rather than being forced to take space that is inflexible and inefficient, simply because it is built and available.
Location – Location – Location
A key consideration for contact centres contemplating relocation is to define the parameters of their search area. If the business is looking to attract new staff, it's important to ensure it is located in an area with a readily-available talent pool and good transport links.
It's fair to say that the majority, if not all, contact centres fall under B1 use classification. This classification covers the building's use as office space, for light industry or for research and development purposes.
Finding premises with a use classification as broad as possible will often be to your advantage. It's not uncommon for businesses to change direction, which could present difficulties depending on the terms of their current lease agreement.
Remember…
Like any ambitious and expanding business, contact centres should regularly review their property requirements and lease events. Moving office locations, whether you're planning to lease, buy or build, is a big decision that requires careful and well thought-out planning. Always think about what your future business needs will be in relation to your property requirements – a little knowledge of the commercial property market, and a degree of forward planning, will ensure you get the best out of your next property move.
Allow adequate time to review your property needs, exercise breaks and expiries, and work with an experienced developer who can guide you through the planning and building process. This will, ensure your office accommodation is aligned to your future business objectives.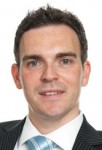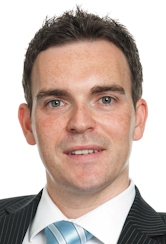 Wes Erlam, senior development surveyor at Lingley Mere Business Park.
Image courtesy of Webhelp UK – EE Contact Centre at Pride Park, Derby