Mayor of Sunderland Charaties Boosted by Contact Centre Donation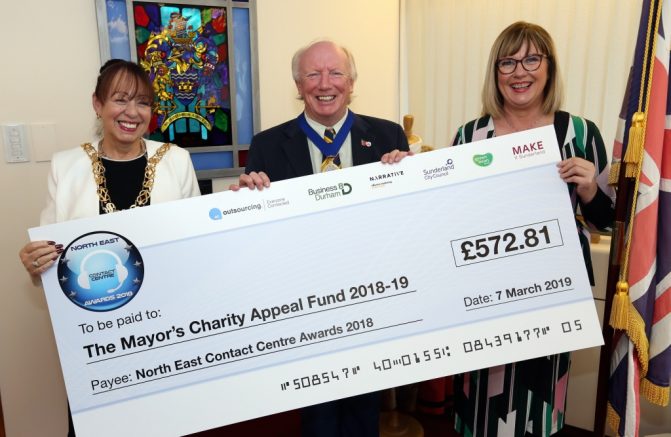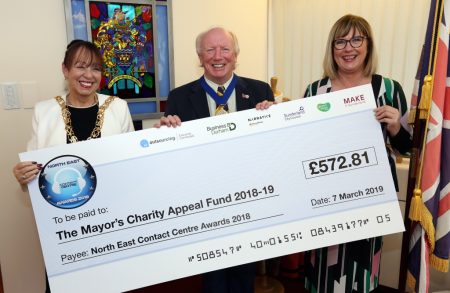 The North East's contact centre industry presented a cheque for just over £572 to the Mayor's Charity Appeal Fund 2018-2019, following the success of the annual North East Contact Centre Awards.
Julie Mordue, (Pictured Right) client relationship manager at greenbean, NRG, which was main sponsor for the awards, presented the cheque to The Right Worshipful the Mayor of Sunderland, Councillor Lynda Scanlan.
Julie said: "It's great that so many people at the awards night contributed to help the Mayor's charities this year. We had companies from all corners of the region taking part, and they've all helped local worthy causes as a result."
The North East Contact Centre Awards, held at the Ramside Hall Hotel and organised by MAKE it Sunderland, (delivered by Sunderland City Council), celebrated its 16th year with a superheroes-themed evening in February.
In Sunderland, the contact centre industry is one of the city's biggest sectors, employing around 13,500 people. The sector generates over £220m a year for Sunderland's economy, and has continued to thrive despite the ups and downs of the economic cycle.
The Mayor of Sunderland, Councillor Lynda Scanlan, (Pictured Left) said: "The North East Contact Centre Awards is a great event, which rewards the talent and skills of individuals and companies contributing so much to our region.
"I'm delighted at the generosity of those at the awards, who are helping key charities with their donation. It's great to know they wanted to be involved in boosting the Mayor's charities this year."
---
 Additional Information
The donation will be split between the Mayor's chosen charities; Sunderland and County Durham Society for the Blind, Hope Spring and NSPCC Childline Service.
The North East Contact Centre awards were sponsored by greenbean by NRG, MAKE it Sunderland and Sunderland City Council, EC Outsourcing, Business Durham and Narrative Integrated Communications.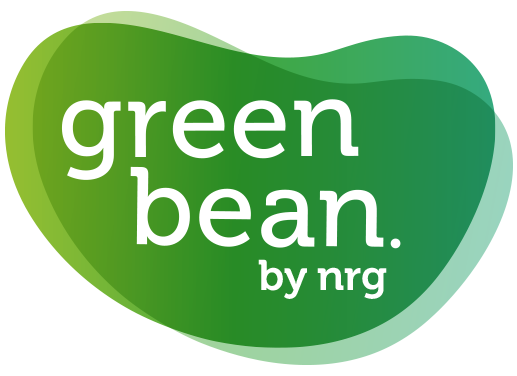 The success of your recruitment strategy needs to be in safe hands. greenbean delivers agile talent solutions in totality or on a project basis. Offering a fully account managed and flexible model, greenbean integrates seamlessly into your business, supporting growth and helping you to deliver results faster.
The team at greenbean by NRG has delivered successful recruitment solutions for more than three decades and are passionate about positive delivery outcomes. Share the benefit of our experience, knowledge and proven track record in talent acquisition and outsourced resourcing.
For additional information on greenbean visit their Website