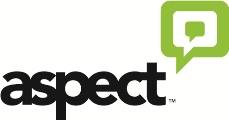 Aspect Software have been awarded the 2013 Global Outbound Dialing Systems Market Share Leadership Award from Frost & Sullivan. The award is presented to the company that has demonstrated excellence in capturing the highest market share within its industry.
"Aspect has maintained its market leadership through a deep understanding of customer needs, its focus on proactive customer engagement, and its expertise in various industry vertical markets," said Nancy Jamison, principal analyst, Customer Contact at Frost & Sullivan. "In addition to tailoring solutions to more traditional outbound segments, such as debt collection, the company has built on its strengths by creating more complex and multifaceted inbound and outbound solutions. This has enabled Aspect to stay on top despite an elongated period of global economic difficulty."
Aspect was selected for this award due to several key performance drivers of Aspect's outbound dialing systems, including:
Architected for an omni-channel customer experience. The software-based approach in architecting Aspect's Unified IP platform has enabled the company to provide an integrated set of inbound and outbound solutions, along with self-service channels and a broader set of unified communications and collaboration capabilities.
Empowering agents with streamlined work tools. Unified communications and collaboration allows Aspect customers to enhance the capabilities of dialing applications by enabling agents to reach and collaborate with experts outside of the contact centre.
Vertical market success. Aspect has a rich history of creating solutions that are tailored to specific industry verticals, such as Unified IP. Streamlined Collections is an example of combining Unified IP's outbound dialer with other assets (voice portal for self-service and advanced list management for optimized campaign management) that make it easier for companies within the Accounts Receivable Market (ARM) to realize lower costs and higher collections yields.
"Consumers today are not just asking for multichannel interactions with the companies they do business with, they are demanding true omni-channel experiences in order to seamlessly conduct conversations from start to finish, regardless of channel or interaction interruption. Aspect's Unified IP platform is uniquely suited to help the businesses we serve transform their customer experience," said Chris Koziol, president and general manager of the Interaction Management division at Aspect. "Receiving the Frost & Sullivan Global Outbound Dialing Systems Award is a perfect illustration of the attention and dedication we have to providing our customers with the operational agility and innovative technology they need to deliver consistent and exceptional experiences across all channels, all the time."
For additional Information see Aspect's Company Profile