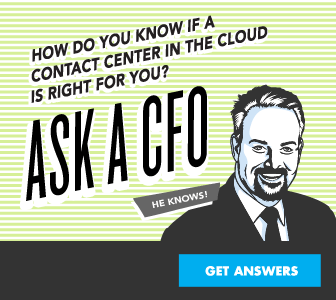 Ask a CFO, he knows: Aspect Software announces upgrade programme to help move antiquated ACD contact centres to the cloud
Programme's compelling economic incentives, constructed by Aspect's CFO for CFOs, is designed to impress even the most skeptical CFOs
Ask a CFO programme takes aim at system displacements of Aspect's primary competitors
Backed by the Aspect Value Analyser which quantifies the economic benefits associated with migrating from legacy on-premises ACD contact centres to contemporary, omni-channel cloud solutions
Some deals are just too good to be true and contact centre promotions are no exception. Companies struggle figuring out the true costs behind confusing cloud promotions, long-term contracts, add-on capabilities and figuring out why set-up fees are so high. Rising consumer expectations, an ever-increasing number of communication options and rapidly evolving technologies only complicate the journey. Confusion like this is why Aspect Software today announced the Ask a CFO programme. The programme is designed to help companies find a way to balance the demands of delivering great service with the financial objectives of their organisation.
"The concept around Ask a CFO is fairly simple. The economic promise of OPEX-based cloud deployments is often difficult to quantify, but good corporate governance requires a business case that justifies the decision to adopt cloud solutions," says Bob Krakauer, Executive Vice President and Chief Financial Officer, Aspect. "I have been intimately engaged in Aspect's business case analysis with our own embrace of the cloud, from implementation of our ERP systems to the content management software we use to manage aspect.com. So who better to help guide our customers through the maze of often times confusing and not-so-compelling price models than a CFO?"
Ask a CFO offers promotional pricing on both Unified IP 7.3 delivered via Aspect Hosted and Aspect's Software-as-a-Service full cloud contact centre solution, Zipwire.
Promotional details for Zipwire Omni-Channel or Omni-Channel Pro packages include:
Up to a 35 per cent year-one discount on Zipwire's already highly-competitive per-seat pricing
With up to a 25 per cent discount in years two and three
Omni-Channel includes advanced inbound voice, outbound, recording, basic IVR, chat, email, SMS, IVR, outbound voice and recording capabilities (plus Mobile chat and video for Omni-Channel Pro)
Highly competitive inbound and outbound voice services that can reduce contact centre telco costs by as much as 50 per cent
Promotional pricing for Aspect Hosted includes:
Up to a 40 per cent year one discount on hosting of core Unified IP 7.3 licenses
With up to a 30 per cent discount in years two and three
Includes advanced interaction management (inbound, outbound, campaign optimisation, self-service basic IVR, chat, email, SMS, workflow) capabilities
Minimum of 250 seats for contact centres larger than 250 concurrent seats
Calling on Aspect's 40 years of industry experience, Ask a CFO is designed to ease ACD migration to a modern customer engagement centre in the cloud so customers can accelerate time to value, adopt the latest technologies more quickly and position organisations for long-term success. Using the new Value Analyser and Aspect's proven contact centre expertise, Aspect works with customers to:
Quantify the financial benefits of a cloud contact centre
Highlight what to look for when evaluating contact centre solutions and offers
Ensure that customers select a solution that is right for their business today and future proof them for their needs tomorrow
"I suspect that the finance organisations of our customers and prospects are looking to ensure that cloud-based solutions deliver compelling economics, so we are taking a consultative "customer-first" approach that ensures organisations secure a solution that balances the demands of delivering great end-customer service with the financial goals of their company," Krakauer continues. "The strength of any promotion, any offer is really only as good as the company behind it. Aspect brings deep industry experience along with the most innovative technology and custom application opportunities to Ask a CFO. This is why we're different. Its why Ask a CFO is compelling."
Ask a CFO offers compelling incentives on Aspect's Cloud and hosted solutions. Customers interested in finding out more about the Ask a CFO promotion can read Bob's answers to Common Cloud Questions, checkout his Cloud Checklist for Success or attend Bob's webinar: CFO Perspective: Contact Centre Economics and the Cloud on December 2nd, 2:00 PM EST.
The Ask a CFO promotional offers require a three-year contract term commitment and are valid for customers who are migrating from a competitive legacy ACD. Offers are only good for the first 50 signed deals OR through March 31, 2015 and in the countries where Zipwire and Aspect Hosted are sold. Ask a CFO offers are available in North America, EMEA and Latin America.
For more information see Aspect's Company Profile