Ago Outsourcing, who are opening a 350 seat+ contact centre in Stratford, Manchester April 2019, are recruiting staff primarily to handle an outsource contract with energy provider, Scottish Power.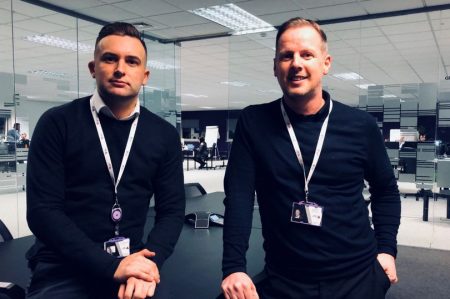 Last year Ago Outsourcing announced that it would be creating more than 700 jobs across their Glasgow and Newcastle contact centres, and are now looking to open further call centre's around the country, with Manchester being the next location.
Stephen Rafferty, chief operations officer at Ago Outsourcing, (Pictured left) said:
"We already have a large presence in Scotland and Newcastle and have very aggressive plans to continue the growth throughout the UK.
"Manchester has always been a prime location for contact centres and after considering a few locations we agreed Manchester would be the perfect venue for our next centre."
Kris McGenily, chief executive officer at Ago Outsourcing (Pictured Right) commented,
"I'm looking forward to bringing Ago to the people of Manchester, and letting them see what a state of the art sales contact centre should look like, it's exciting for all of us and I'm sure this will be an excellent addition to our portfolio "
---
Additional Information


The company is holding a recruitment open day on Saturday February 23rd at the Emirates Old Trafford Cricket Ground between 9am – 5pm.
For additional information on Careers at Ago Outsourcing Click Here
For additional information on at Ago Outsourcing Click Here