Zoom Contact Centre Unveils New Features and Adds Availability in UK and Ireland
Today's customers want more. They want highly personalized experiences that don't just meet their expectations – but make them feel like a VIP.  And now, you can deliver this to your customers with Zoom Contact Centre. Previously only available in North America, our omnichannel contact center-as-a-service (CCaaS) is now available for businesses in the UK and Ireland and coming soon to additional European countries.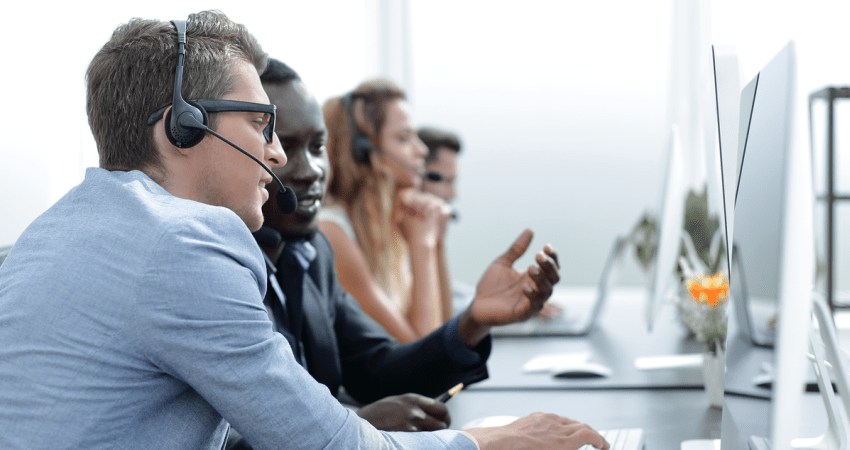 So, what is Zoom Contact Centre?
Zoom Contact Centre helps businesses across all industries deliver prompt and personalized responses to their customers over a variety of channels, including voice, chat, SMS, and video – every time, the first time.
To help you gain a competitive advantage, our unique CCaaS platform is built around three distinctive pillars:
– rich built-in video capabilities
– combined unified communications and contact centre experience
– intelligent self-service and routing, with a conversational AI-powered virtual agent
Optimized for video and built on the secure, open, and reliable Zoom platform, Zoom Contact Centre can help you increase productivity, streamline communication between colleagues, improve first contact resolution, increase NPS and CSAT scores, and retain agents through our easy-to-use, intuitive technology.
Give your customers the personalised video experience they crave
The modern customer expects cutting-edge digital experiences that go beyond voice-based call center services, and for good reason. Visual engagements provide more opportunities for human interactions that resonate longer. Because of its built-in video capabilities, Zoom Contact Centre enables agents to elevate a customer interaction from chat or voice to video and offer a more empathetic experience.
Not only does video increase customer satisfaction, but according to a 2022 Metrigy CX MetriCast study of 1,846 global organizations, video also helps increase revenue, customer ratings, and agent efficiency.

Unified communications + contact centre = happier contact centre agents
Knowing that happy employees often lead to happier customers, we've answered the growing need for an all-in-one unified communications platform and contact center solution. Our multi-purpose agent desktop allows agents to connect with colleagues and customers from one application. When customer queries require expertise, agents can quickly call or chat with back-office experts to resolve issues faster and drive first-contact resolution.
Not only does an integrated contact center experience help organizations remove the barriers that lead teams to work in silos, it lessens the burden for IT teams by deploying only one Zoom application. Zoom customers who already use Zoom Meetings, Zoom Phone, and/or Zoom Team Chat don't have to learn new contact center software, as they will recognize the call-handling experience from our intuitive and familiar platform.
A better way to self-serve and reduce call load 
When call volumes are high, contact centre agents feel even more pressure to deliver quick and accurate information. To offload this burden and reduce agent burnout, our conversational  AI and chatbot solution, Zoom Virtual Agent, helps customers self-serve to find the answers they need.
By crawling FAQs, knowledge bases, and other business applications, Zoom Virtual Agent delivers instant, accurate resolutions, and when needed,  can smoothly hand off the inquiry and chat history to a contact center agent so customers don't have to repeat themselves. Zoom Virtual Agent will be available in early 2023.
Innovative features that retain agents and create brand loyalty
We designed Zoom Contact Centre with scalable features, innovative functions, intuitive dashboards, and remote-friendly software so you can uncover new efficiencies that keep your contact centre agents happy and your customers coming back.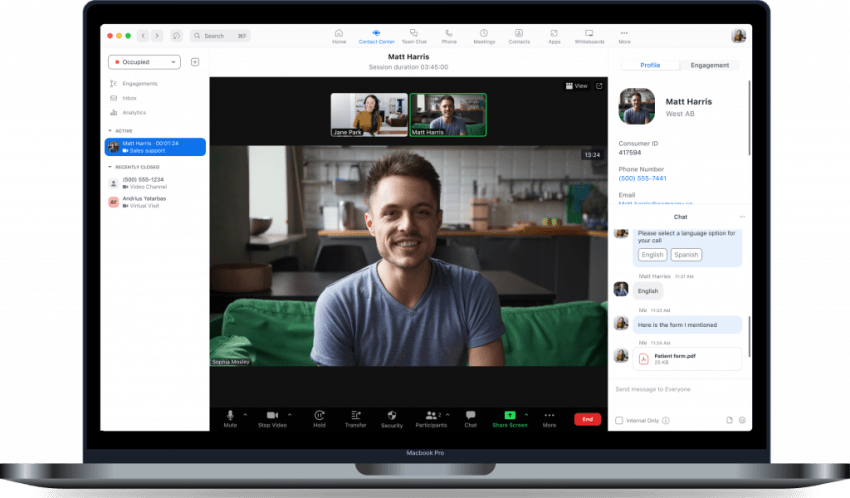 A unique waiting room experience 
Giving customers the ability to engage with your business – especially while waiting in queue for an agent – is not only efficient but generates a positive experience. Our unique video waiting room can be customised according to the queue and display relevant content, such as promotional and welcome videos, FAQs, and informational documents that promote your brand image or products.
Advanced skills-based routing
No one likes to feel passed around. Our sophisticated skills-based routing and intuitive flow designer let contact centers design customer journeys across all their channels to ensure customers reach the right agent, the first time. Our open CCaaS platform integrates with CRMs and uses caller information to make an intelligent decision on how best to route them. This sophisticated routing process leads to increased efficiency, faster call resolution time, and dramatic improvements in your CX.
Integrations for increased efficiency 
Toggling between applications isn't just frustrating, it's inefficient. Our plug-and-play integrations with popular applications like Salesforce, Zendesk, and ServiceNow equip agents to manage all of their customer interactions within one business application and spend less time toggling between apps.
What's more, Zoom Contact Centre's extensible, flexible CCaaS platform provides software development kits (SDKs) and APIs that integrate with critical business applications and systems. Whether accessing our SDKs to integrate Zoom Contact Centre with your own touch device, or using our fully integrated, video-optimized Zoom Kiosk, we're here to help you automate tasks for your agents and provide high-touch interactions and personal connections with your customers.
Robust data analytics
The ability to measure agents' performance can help supervisors understand not only their employees' pain points but their customers' needs as well. Zoom Contact Centre provides more than 25 logs, dashboards, and reports for managing, monitoring, and measuring agent productivity and customer service levels. Having clearer insight into agent productivity, call time, and customer interactions can lead to higher customer satisfaction and ultimately, higher retention.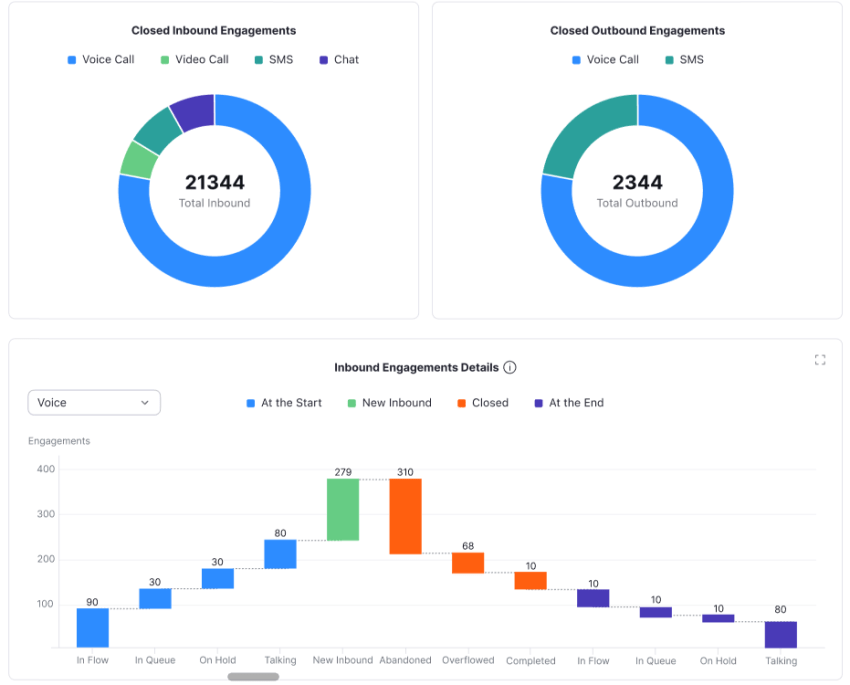 The cloud contact centre difference
Cloud contact centres are the driver for innovation and digital transformation. They're easy to upgrade and manage, scalable, and designed to support remote agents. With 73% of contact center agents and supervisors working from home indefinitely, cloud contact centers drive business growth and are a competitive differentiator for customer interactions. Zoom's cloud-based contact centre was built for scale to support the hybrid workforce and businesses of all sizes.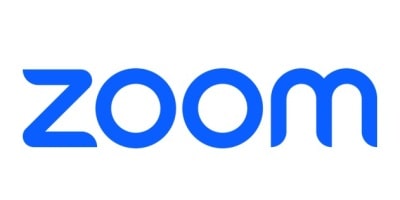 Get started with Zoom Contact Centre
It's hard to put a price tag on customer service, especially when a mere  33% of consumers feel that their typical customer experience has improved over the past year.  But it's easy to see the value behind helping customers have an exceptional experience and walk away satisfied.
Level up your call center with Zoom Contact Centre to enhance your brand reputation, improve your customer relationships, and lower your operating costs.
For additional information on the Zoom Contact Centre Click Here