Rise of the robots won't outshine stars of the contact centre industry as 20th anniversary Awards shortlist announced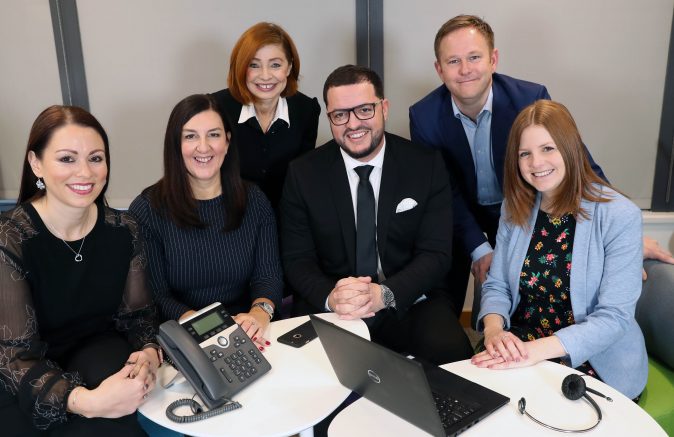 The nominees for the landmark 20th Welsh Contact Centre Awards have been announced by the Welsh Contact Centre Forum, ahead of March's event in the iconic Wales Millennium Centre.
The awards, headline sponsored by Centric Recruitment, celebrate both individuals and companies for their contribution to the industry over the last twelve months. Against a backdrop of predictions that robots could replace humans at the customer service coalface, the sector has grown to contribute £650m annually to the Welsh economy.
Sandra Busby, managing director of the Welsh Contact Centre Forum, (Pictured 3rd from left) said:
"Automation isn't a new thing in contact centres. Back in 1999 when we started these awards, customers could undertake simple tasks like checking their bank balance without ever speaking to a real person. But over the past two decades, the Welsh contact centre workforce has grown from 10,000 to 32,000 employees.
"While we'll continue to see basic interactions go to the bots, employees like the ones nominated will see their skills called upon for more complex customer service situations. It'd take robots a century to replicate the empathy of a Welsh customer service agent, but we will see them play a supporting role to humans, providing data to agents which can help customer engagements run even more smoothly. This is an industry which continues to innovate and adapt and I can't wait to celebrate its achievements in March."
The finalists will be honoured and the winners announced at the Welsh Contact Centre Awards ceremony at the Wales Millennium Centre on Friday 9th March 2018.  The glitzy ceremony has previously been hosted by television celebrities including Jonathan Ross, Alan Carr, David Walliams and Rob Brydon, but 2018's star turn is a closely guarded secret.
Dave Matthews, Operations Director at Centric Recruitment said: "The Contact Centre sector in Wales is one of substantial growth and Centric is proud to be headline sponsor of the awards at this year's 20th anniversary ceremony. The Welsh Contact Centre Forum is hugely respected in our industry and their values align with those of Centric in terms of quality and service delivery.
"Sponsoring the Welsh Contact Centre Awards is a great opportunity for us to showcase our existing diversity within the workplace with added focus now being made within the Contact Centre business community."
Other sponsors currently include Deloitte, HSBC, Aegis, Legal & General, Red Recruitment, V12 Finance, CGI, Yolk Recruitment, Premier CX, Cardiff & Vale College and Conduit.

For information on the awards to include the full list of nominees, to resrve you ticket at the event visit the Welsh Contact Centre Awards website