Enghouse Interactive looks at what measures can be taken by contact centre managers across the UK to proactively tackle the influx of calls that contact centres will be receiving in the current severe weather.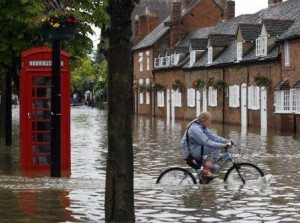 Exacta Weather, a non-profit organisation of meteorological experts, recently stated that there were strong indications that "large parts of the upcoming winter will be very cold and exceptionally snowy in comparison with last year. The forecasting parameters also suggest a potentially high-risk scenario for some of the coldest and snowiest conditions in at least a century."
The news will be greeted with trepidation by the UK's contact centres especially as it comes hard on the heels of the severe flooding that has plagued the country during 2012 and an on-going series of harsh winters that have hit Britain over the past few years. Taken together, all of these issues have resulted in significant increases in the volume of incoming telephone calls that organisations directly impacted by emergencies like police, councils, insurance and rescue services, for example have had to deal with.
More significantly still, for most businesses, they have led to significant reductions in the numbers of staff being able to reach their place of work. Transport difficulties, accidents, burst pipes and power failures resulted in office and school closures across the UK. In January 2010 alone; it was reported that up to 124 million working hours were lost in Britain in just one week due to adverse weather conditions.
All of this inevitably had an effect on the availability and productivity of contact centre staff. It's not surprising then that many businesses will be taking precautionary measures over the coming months to ensure that their customer service remains of the highest possible quality.
Finding a Solution
During poor weather conditions, customers above all want immediate access to simple, straightforward information. Eager to deliver this, contact centres have increasingly been choosing to opt for self service options such as web and IVR to provide anxious callers with access to information, status updates, and to steer priority calls quickly to the right advisor.
A self-service approach can be huge help in such a scenario. With the younger generation in particular, an approach that enables people to navigate their way into the system and solve their problem themselves through a self-service approach, is likely to resonate well.
IVR systems manage high volume, repetitive requests from callers very effectively, making them well-suited for dealing with high call volumes during the crisis situations that bad weather often provokes. IVR also provides an immediate response, which is a top priority in any emotive situation and promotes a far better caller experience than waiting in a queue. And, when used in tandem with real agents, IVR delivers significant business benefits by enabling call centre staff to focus on high-value, priority or emergency calls.
Another potential solution for avoiding issues around empty call centres and irate customers this winter, is to provide agents with access to their contact centre applications from home. Cloud-based solutions are perfect for supporting homeworkers, enabling organisations to benefit from a pool of agents dispersed across a geographic location that can ramp up quickly in the event of one or more facilities going down.
Staff can keep working through the bad weather and organisations have the flexibility of bringing extra staff on stream for the duration of the bad weather to help service the contact centre and its customers and then essentially 'switching them off again' during quieter periods.
Times of Stress
Today, most companies have straight-through processes and business systems that allow them to operate economically with an acceptable level of customer service. It is at times of stress and crisis such as bad weather, however, that the service is really put to the test.
It is at these 'moments of truth' when the customer wants to interact with the business about something that really matters to them, that customer service really needs to shine. Customers want to be treated as unique and expect customer service excellence. Companies need to learn the lessons and ensure they have a proactive approach in place that enables them to manage the impact of bad weather and keep their customers happy at the same time.



For additional information see Enghouse Interactive's Company Profile