Videlica gets Virtual Queuing for iPhone ready for Apple Watch device ahead of launch
Videlica extends existing Virtual Queuing for Mobile and Web out to Apple Watch
New App will help companies reduce the frustration of Hold Time and customer attrition
WatchKit App will connect the contact centre and their agents to customers wrists
Virtual Queuing proven to reduce Caller Abandon Rates by at least 50% and improve Net Promoter Score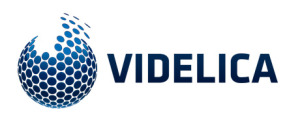 Videlica, which specialises in deploying Intelligent Virtual Queuing to contact centres that reduces customer hold time, will allow companies to extend the reach of their branded mobile apps on iOS to the Apple Watch. Putting the contact centre on customers' wrists and helping customers at their true first point of interaction.
Videlica has developed the app for clients interested in deploying Virtual Queuing to Apple's latest device. The Apple Watch app will allow callers to request a call-back from a contact centre directly from their wrists without the frustration of hold-time or having to repeat their information all over again.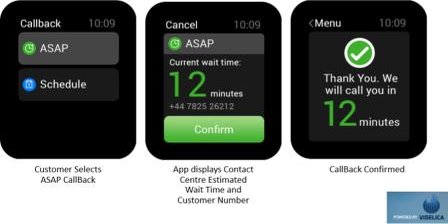 Customers can miss an expected Call-Back from their bank or utility company simply due to having their phone on silent. With the upgraded app for Apple Watch, customers won't miss their Call-Back as they will receive notification of an incoming call directly on their wrist through a vibrating alert in a non-obtrusive way.
The app can be customised so customers can receive a notification a few minutes in advance reminding them that they are about to receive the Call-Back they requested. This gives them time to step out of a meeting or pull over to the hard shoulder in order to take an important call they are expecting from their bank or service provider.
Apple Watch Features:
Confirm an ASAP or Scheduled Appointment Time from Watch App
Push Notification reminder in advance of your call appointment
Accept the inbound call when received
The Videlica Apple Watch solution leverages the development capability of WatchKit. Once released for Videlica customers on their Mobile Connect Platform, end users of the iPhone app will not need to do anything because the system will prompt the user to install the WatchKit app when a paired Apple Watch is present.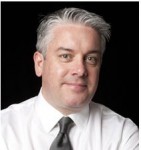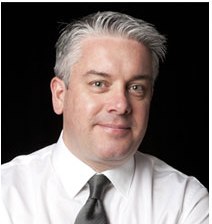 "We help global brands improve the customer experience at the contact point of their business and this is a natural evolution of the mobile app. Our clients want to reduce the friction their customers experience when they move between channels" Videlica Managing Director, Alan Jones said
"The Videlica Apple Watch development essentially extends the reach of the contact centre together with an agent who can help onto the customer's wrist. This helps create a consistent customer journey regardless of what channel they first started an interaction. "
---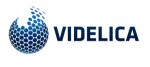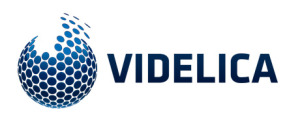 Videlica is the global leader in deploying Virtual Queueing and Omni-Channel strategies for enterprise contact centres. Founded in 2012 and headquartered in Dublin, our clients operate some of the largest contact centres in the world across more than 13 countries and their activities span a wide range of industry sectors including banking, telecoms, utilities, travel and retail.
They help global brands to improve their customer experience and reduce frustration by seamlessly linking every entry point into the contact centre and enable customers to speak to an agent regardless of whether they have first tried to get in touch via the web, smart phone QR codes or social media and we do it without lengthy hold times or requiring customers to repeat information. .
For additional information see the Videlica Website or contact
Alan Jones, Managing Director, Videlica EMEA on +353 86 822 2462 or email ajones@videlica.com