Thrifty Car & Van Rental open Retail Reservation Contact Centre in High Wycombe in rder tht Branches can concentrate more on Corporate Rental
Linda Malliff, Service Director, Thrifty Car and Van Rental, explains
"We continually review and monitor our service delivery to the corporate market in order to maintain, or indeed find ways to improve, our offering to this market.
Having listened to feedback from our client base along with analysing the productivity of each of our 98 locations during the course of the last 6 months we believe this initiative will have a significant and positive impact on our service provision.
By removing thousands of telephone calls from our locations and redirecting them to our ew contact centre manned by specialists agents in leisure rental we free up our operational team to do what they are great at renting cars and focussing on our core customer base the corporate sector.
We have already seen vast improvement in general efficiency at many of our locations due to taking this one simple step"
Caroline Gallagher, Sales Director, Thrifty Car and Van Rental adds
"The corporate market has fundamental requirements; delivery of the right car to the right place at the right time and relieving our branch network from the continual pressure of answering thousands of daily telephone calls allows them to focus on our core market by improving time management and vehicle movement logistics which in turn has a positive effect on service delivery.
The feedback, at this early stage, from our customer base has been extremely  encouraging and constructive."
---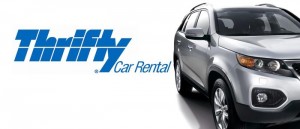 Additional Information
The Thrifty Retail Reservation Contact Centre is based in High Wycombe – Thrifty Car and Van Rental operates nationwide and currently has 98 branches within the UK
For additional information on Thrifty Car & Van Rental visit their Website