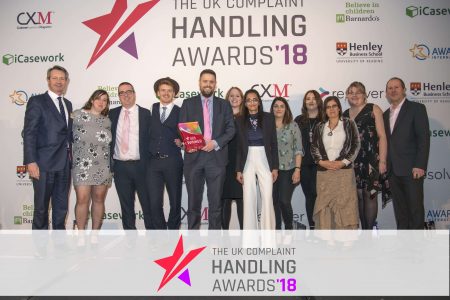 Severn Trent has been recognised for its great customer service by being handed the 'Best Utility' award at the UK Complaints Handling Awards 2018.
The team were presented with the Gold Award for Best Utility at the ceremony at the Riverbank Park Plaza in London.
Neil Davies, who leads the team, said: "This was a fantastic achievement and is testament to the great work of our teams to reduce customer complaints in the last 12 months.
"Customers are at the heart of everything do and so to be recognised for helping them and reducing complaints is brilliant."
The UK Complaint Handling Awards was created to recognise and celebrate the organisations, teams and individuals who are achieving excellence in managing consumer complaints.
---
Additional Information
Severn Trent is the UK's second biggest water company. It serves 4.5m homes and business customers in England and Wales. Its region stretches from mid-Wales to Rutland and from north Wales south to the Bristol Channel and east to the Humber. The company delivers almost two billion litres of water every day through 49,000km of pipes. A further 94,000km of sewer pipes take waste water away to more than 1,000 sewage treatment works.
For additional information about the UK Complaints Handling Awards Click Here