Following a research survey conducted by YouGov, statistics show the most recent in communication channel preferences from retail consumers, especially during the busy time of sale shopping and gift returns.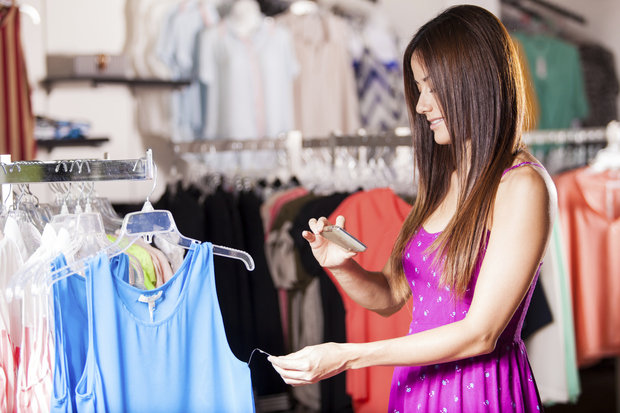 The results highlight that WebChat and other automated and/or self-service channels are on the rise, as customers opt to contact companies via varied portals. While the older demographic still prefers to use the phone, or go into store to contact companies, the rapid increase in automation and lack of interest in online forms shows that younger customers seem to value convenience over other attributes.
Consumers are getting busier by the day and have less time to wait on the phone, or to physically go into store if it can be avoided; therefore, the email channel is still also popular for various reasons.
Being able to pop a quick email to the customer services department while at work, or on their lunch break, consumers feel that this is more to their convenience. What's more, they can check their emails again at any time, for example, on their commute home, whilst their account holds the thread of all previous chat. Much more suited to those who are trying to fit 100 jobs into a single day. It is therefore important that companies do not disregard email management modules within their customer service departments, despite it often being referred to as the dying channel, as they are still highly relevant.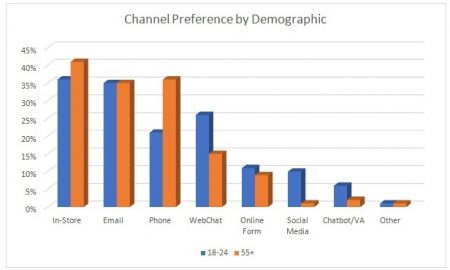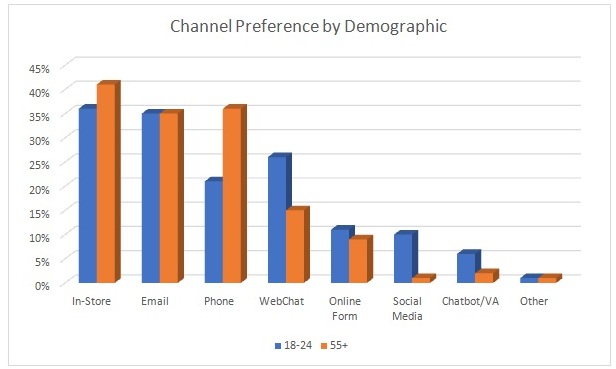 WebChat, at 22%, highlights that consumers are increasingly willing to place their faith in automated and self-service technology. This is a key factor in moving forward as instant messaging holds the benefits of both automation and email. No longer will they need to wait for an agent to be available on the other end; the thread is always present to both parties for any previous references that may be needed, and the consumer is able to contact the company at their own convenience, regardless of opening hours or device accessibility.
The results also infer that customers are happy to trade off instant answers for convenience and this is a strong portrayal of today's digital generation. While the statistics for automation are relatively low, they are on the increase. 5 years ago, the same piece of research would have looked very different, with phone being the dominant communication channel for most consumers.
2018 will be an interesting year for retail consumers as companies begin to offer more efficient channels to process their requests. As of this year, there will be a noticeable shift in demographic, with more millennials becoming the customers driving the retail sector than ever before. With the statistics showing WebChat and email as the most popular communication channels for the younger demographic, instant responses at their convenience are the clear preference. While generally speaking, the highest preference channels are those traditional ones that would be expected, it is important to note that the others are on the rise, with millennials increasingly trying other options. The industry will need to shift their approach in turn, to effectively manage expectations of automation and consistency throughout the customer service experience.


IFS Customer Engagement provides a complete solution to transform the contact centre: combining omni-channel contact technology with Customer Service CRM software in a single, uniquely configurable, AI-powered agent desktop. By bringing together disparate sources of data from multiple systems, our software solves complex customer service and support issues. Benefiting from a 360-degree view of the customer on one screen alongside all contact channels, your advisors can deliver customer engagement seamlessly, whilst simultaneously banking productivity gains.
For additional information on IFS Customer Engagement visit their Website
"At 77 million strong, [millennials are] now the largest generation in the electorate, workforce and population, a distinction they'll keep for decades." Paul Taylor, The Next Generation