On Thursday 10th of May, the Worshipful the Mayor of the Borough of Bracknell Forest joined Redwood Technologies Group founders and team members to celebrate the 25th anniversary of its original company at the organisation's Headquarters in Bracknell.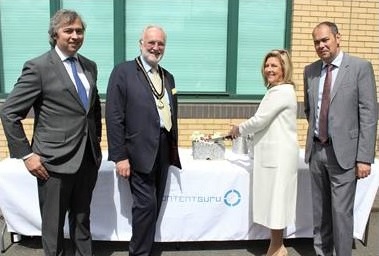 The grand unveiling of a silver anniversary plaque by Madam Mayor, Councillor Mrs Tina McKenzie-Boyle, was followed by a barbeque in the sun. Local desserts artisan MonAnnie provided a beautiful 25th anniversary cake, which was ceremoniously carved by the Mayor.
Founded on 14th May 1993 by brothers Sean and Martin Taylor, Redwood Technologies was from its beginnings a trailblazer in the open communications industry.
Initially, the company manufactured high-end components for the likes of Panasonic and Ericsson, and operated the mass calling platform used for "Pop Idol" and "Who Wants to be a Millionaire?".
Redwood Technologies has since evolved rapidly and now provides communications solutions to hundreds of organisations in over 60 countries.
Since 1993, the Taylors have seen success after success, founding Content Guru, the cloud communications integrations provider, in 2005, which has joined Redwood Technologies under a new parent organisation, Redwood Technologies Group. The Group's companies have won multiple awards in recognition for services to businesses and communities, including the Queen's Award for Innovation in 2016.
Sean Taylor, CEO of Redwood Technologies Group (Pictured far right)  commented on the celebrations, saying:
"It has been great not just to survive as an IT company for 25 years, but also to have thrived. Our success has been founded on having an excellent team, which has grown from a handful of people based in the UK to the international organisation of today.
I will have handed over the baton by the time the next quarter century milestone has arrived and it will be fascinating to see what can be achieved in that timeframe.
I would like to thank the Mayor of the Borough of Bracknell Forest and her consort for joining us as part of our series of celebrations."
---
Additional Information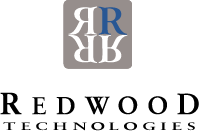 Madam Mayor, Councillor Mrs Tina McKenzie-Boyle cuts the cake, alongside Martin Taylor (left), Bruce McKenzie-Boyle (The Mayor's Consort) and Sean Taylor (right)
For additional information on Rewood Technologies visit their WEbsite