HGS to create 150 new jobs in Selkirk and invests in Purchasing and upgrading contact centre facility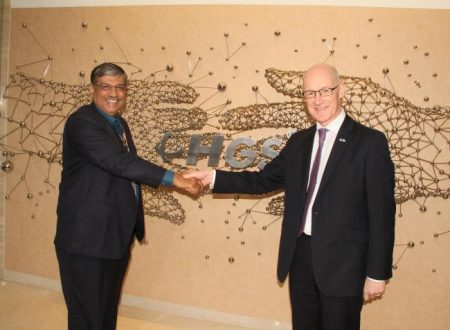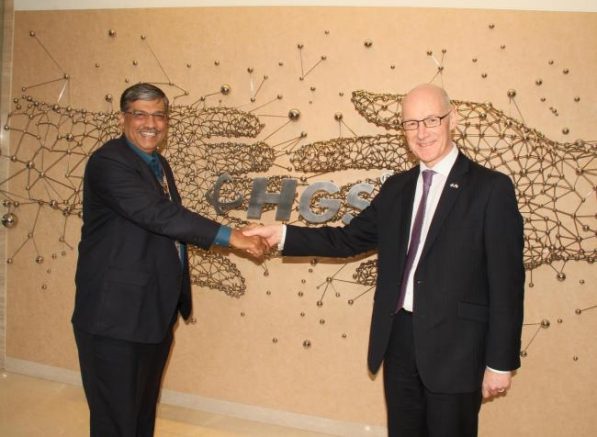 Hinduja Global Solutions Ltd have announced it will be creating up to 150 brand new permanent jobs and investing into its contact centre in Selkirk over the course of 2019. The company has purchased the site from its lease holder, has recruited a new management team and is about to embark on a 12-month site-investment programme giving further security to the 265 existing employees based there.
HGS's Global CEO, Partha DeSarkar met with Scotland's Deputy First Minister, John Swinney, on Wednesday 28th November, 2018 at the company's Headquarters in Bangalore to discuss HGS's commitment to the Scottish Borders and opportunities for the future.
Partha DeSarkar, HGS CEO (Pictured Left) said:
"I'm delighted to have met with the Deputy First Minister and to confirm HGS's commitment to Scotland with the acquisition of our site in Selkirk.
We are excited to bring continued economic growth to the location and I am pleased to say that HGS will be offering up to 150 new contact centre job opportunities to the region over 2019.
The location and people of Scotland deliver best-in-class performance for our growing roster of clients."
John Swinney, Scottish Deputy First Minister (Pictured Right) added:
"Hinduja Global Solutions are highly valued investors and I am delighted with their continued growth in Scotland.
The creation of 150 new permanent contact centre jobs in Selkirk in addition to the security for the 265 existing employees there is fantastic news for the local community. It has been a pleasure to meet Partha to discuss Hinduja Global Solution's significant investment in Selkirk and hear his enthusiasm for Scotland. This is a clear confirmation of Scotland's attractiveness to inward investors."
The company has ambitious plans to develop a world class call centre in Selkirk which is testament to the skills and talent we have here. The meeting has been a great opportunity for us to hear more about this significant new investment in the South of Scotland and we look forward to continuing to work closely with Partha and the HGS team to cement the company's commitment to Scotland."
The expansion of the Selkirk site is expected to be complete by the end of 2019 and will include the newly revamped employee break-out area and refit throughout making it a world-class customer service facility.
---
Additional Information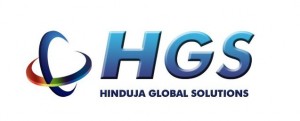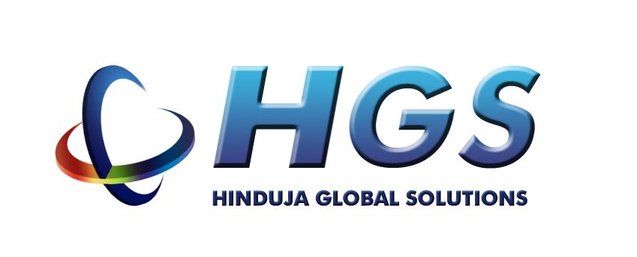 A global leader in business process management (BPM) and optimising the customer experience lifecycle, HGS is helping make its clients more competitive every day. HGS combines technology-powered services in automation, analytics and digital with domain expertise focusing on back office processing, contact centres and HRO solutions to deliver transformational impact to clients. Part of the multi-billion-dollar conglomerate Hinduja Group, HGS takes a true "globally local" approach, with over 44,528 employees across 75 delivery centers in seven countries making a difference to some of the world's leading brands across nine key verticals. For the year ended 31st March 2018, HGS had revenues of US$ 597 million
For additional information on Hinduja Global Solutions (HGS) visit their Website – to contact HGS for recruitment opportunities Click Here