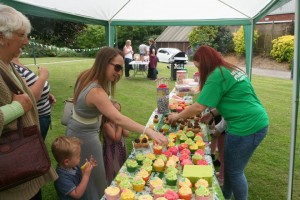 Kent-based Customer support experts GoResponse held a Summer Fair outside of their offices on Friday, to raise money for Macmillan Cancer Support – a leading charity providing practical, medical and financial support for people with cancer.
The all-day event involved a number of activities for staff from the local business community on Kent Science Park to take part in. There was everything from the culinary delights of a BBQ and a cake-decorating stall, to games such as a football competition and a beat the buzzer challenge. And of course no summer fair would be complete without a tombola or a hook-a-duck competition. There was also face-painting, a photo-booth and a bouncy castle; with live entertainment from a juggler.
Claire James, Team Leader at GoResponse, was a key driving force behind organising the event. She commented:
"It was wonderful to see such a great turn out, both from the staff at GoResponse and from other businesses at Kent Science Park. In total we raised over £680 for Macmillan, which I'm extremely proud of. It is such a worthwhile cause, and any donation, no matter how small, still makes a difference."
The award winning customer service specialists also found a unique way to drum up donations on the day – by encouraging companies to put their bosses in the stocks for a small fee! Managers were placed in wooden stocks, where their staff delighted in the opportunity to throw sponges at them.
Glen Blow, Chief Operations Officer at GoResponse, was one of a number of volunteers to undertake a stint in the stocks. He spoke about his experience:
"It was a little nerve-wracking to have everyone lining up to throw a wet sponge at my face, but at the same time it was a great laugh and all in the spirit of fun and raising money for charity. I'd be happy to do it again but I was glad I had a change of clothes!
"As a company, we've always been major supporters of Macmillan, and a lot of people here have had personal experience with the incredible work that they do. The event was not only a good way to raise money but was also a great morale boost for our 130-strong staff. I'd definitely encourage other businesses to organise similar days for charity."