Aspect Software have announced its collaboration with ComSys, an Aspect Software partner for 15 years specialising in contact centre solutions.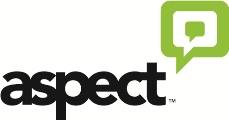 The ComSys solution seamlessly integrates Aspect Unified IP and leading CRM solutions such as Siebel, PeopleSoft, Salesforce and SAP. The joint solution will enable contact centres using Aspect Unified IP to enhance their core CRM capabilities in order to deliver informed, omni-channel interactions and exceptional customer experiences.
"Aspect CRM Connectors for Unified IP help us fulfill our mission of making it easy for our customers to engage with their customers," said John Amein, Vice President of Product Management, Aspect. "A trustworthy CRM connection is essential for contact centre agents to have a quick and fully integrated view into a customer relationship across all channels. We are pleased to partner with ComSys who have worked with us on a package that is field-proven and ready to connect Unified IP to all popular CRM solutions."
"For many years ComSys has been involved in successfully designing and implementing complex contact centre and unified communications solutions by leveraging the technical experience and industry know-how with our company," says Vassilis Galakos, CEO, ComSys. "Our collaboration now extends this expertise to Aspect customers so they can receive the benefits of industry-standard, fully-integrated CRM solutions and deliver more personalised customer experiences to their end customers."
Aspect CRM Connectors provide the following benefits:
• Improved contact management process: By enabling full CTI functionality on CRM desktops, agents have the ability to place, receive, and transfer multichannel customer interactions with full, real-time connections to CRM customer data
• Increased efficiency and cost savings: Aspect CRM Connectors reduce length of call times and improve call resolution for faster call processing
• Improved customer experience: Agents have a 360-degree view of customer data associated with the current interaction as well as previous ones via the CRM agent desktop client. This allows the agent to deliver a more personalised customer experience and increases the likelihood that the inquiry is resolved on the first contact
• Increased revenue opportunities: With CRM application integration, agents can more easily upsell/cross-sell products and services when they are able to view a customer's previous transaction history. In addition, outbound campaigns using the CRM integration can improve revenue by giving agents critical customer information upon contact connection, helping the agent identify the customer and customise the interaction
Aspect also provides alternative solutions for connections with Oracle RightNow and Salesforce through the Aspect Interaction Enablement group, in addition to offering an Aspect solution for Microsoft Dynamics CRM. For Aspect Unified IP CRM integrations with Microsoft Dynamics CRM, please reference the current Microsoft Dynamics CRM for Aspect® Unified IP® solution.
For additional Information see Aspect's Company Profile