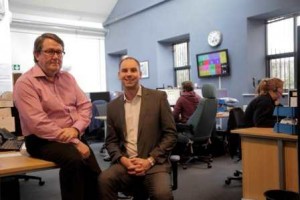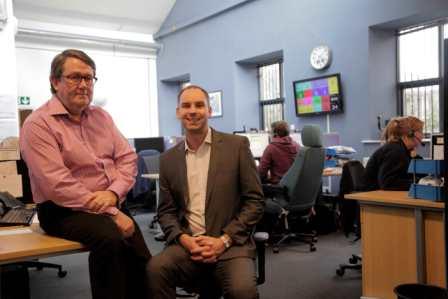 Answering4U, a contact centre business based at Shipley, has boosted its customer service capability and made plans for future growth after becoming the latest Bradford company to take advantage of the government grant funding programme to help small businesses connect to high speed internet services.
Answering4U, which employs 30 people at its call centre at Mercury Quays in Shipley and has a £1m turnover, received £3,000 of funding under the government-backed Superconnected Leeds Bradford programme to increase its internet speeds by over 100 per cent. The upgrade has had a dramatic impact on the business, according to director and co-founder, Robin Alderton.
"We now have a dedicated 30 Mbps line all to ourselves, whereas before we had up to 20 Mbps, which at busy times was in effect shared with other businesses nearby," he said. "That meant the speed of the broadband was variable to say the least, but now we can be sure of constant high speeds at all times, which is critical to maintaining and increasing the levels of service that we are committed to providing to our clients."
Answering4U, which was founded 15 years ago, is dependent on robust connectivity because it connects with its clients' own head office systems and websites, sometimes on a 24/7 basis. "We are more than a call centre, which is why we need fast and very resilient broadband," said Mr Alderton. "We provide a fully interactive service for most of our clients, whether that's acting as a tenants' helpline for Eddisons in Leeds, or as the front line for course enquiries from students at Barnet and Southgate College in North London."
The new connection will also enable Answering4U to implement VoIP phone lines to cope with a greater volume of calls during busy periods. "One of our clients – York-based Rolawn – supplies turf to landscapers, groundsmen and gardeners and they are phenomenally busy between March and July each year which means we handle literally thousands of calls for them," said Mr Alderton. "We now have the capacity to expand the service we deliver to Rolawn as well as to other customers, giving us the capability to take on more clients in future.
"A further advantage is that the new high speed connection will allow us to have a much more resilient disaster recovery facility by allowing us to back up all our data to a remote site overnight, something we could never have done with the previous broadband speeds."
Jon Duncan of Superconnected Leeds Bradford said: "More than 200 growing Bradford businesses have now signed up to the Superconnected programme and received vouchers worth up to £3,000 enabling them to upgrade to high-speed internet connections. It's great to see how this government programme has been such an effective catalyst for growth, in many cases transforming the future prospects of ambitious smaller companies like Answering4U, and enabling them to punch above their weight. As the connection voucher programme closes in March, I'd urge businesses to apply now before they miss the boat."
---
Photograph Caption: LtoR Robin Alderton, Director and co-founder of Answering4U and Robin Alderton.John Duncan of Superconnected Leeds Bradford
For additional information see Answering4U 's Website