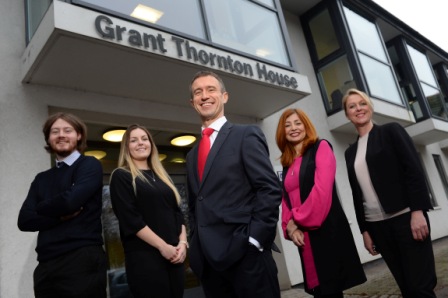 More Welsh companies lend their support to growing 'talent-pool' of young professionals – It has been announced that Grant Thornton is the latest company to join a string of Welsh employers who are supporting young graduates to achieve an MSc in Financial Services.
Grant Thornton UK LLP are one of the world's leading organisations that provide independent assurance, tax, and advisory services to their clients. They now join a host of noteworthy employers including Admiral, Atradius, Composite Legal Expenses, GM Financial, Finance Wales, Julian Hodge Bank and Optimum Credit, all of which are currently providing practical work experience to talented and enthusiastic young graduates.
The Welsh Financial Services Graduate Scheme launched this year in a bid to develop a graduate talent pool of industry professionals in Wales. Thus strengthening the growing position of Cardiff and south-east Wales as a location of choice in the financial services field.
The innovative new programme, backed by the EU, will combine a Master's degree in Financial Services alongside practical work experience with some of Wales' biggest employers in the sector.
Grant Thornton were officially welcomed to the programme this week by Welsh Government Finance Minister Jane Hutt.
Speaking of the scheme, Jane Hutt stated: "The financial service sector is one of the cornerstones of the modern Welsh economy, bringing high-value jobs and sustainable growth. This initiative is an important step in ensuring we develop and retain the best talent, allowing more graduates to pursue professional careers here in Wales."
Alistair Wardell, head of Grant Thornton in Wales believes: "The scheme is a great opportunity for graduates to have an insight into how we work at Grant Thornton. Gaining experience on the job is an invaluable method of learning and we're pleased to play a part in developing the great talent that exists in Wales."
The Financial Services Graduate programme is partly funded by the European Social Fund, and will be managed by the Welsh Contact Centre Forum on behalf of the participating companies – Admiral, Atradius, Composite Legal Expenses, GM Financial, Finance Wales, Julian Hodge Bank, Optimum Credit, and Grant Thornton.
Sandra Busby, Managing Director of the Welsh Financial Services Forum who are leading the programme, officially welcomed Grant Thornton to the programme this week. She said: "Grant Thornton is the latest in a host of esteemed businesses to join this fantastic programme and play their part in building a stronger financial services sector in Wales. Thanks to the support from these organisations, our fresh, ambitious graduates will emerge from the scheme as well-rounded, competent young professionals who can provide the future lifeblood for this vital sector."

For additional Information visit the Welsh Financial Services Forum Website
Photograph Caption: (left to Right) Graduates Greg Robinson and Rhiannon Jones with Alistair Wardell (Head of Grant Thornton in Wales) Sandra Busby (Managing Director of the Welsh Financial Services Forum) and Rowena O'Sullivan