PCI DSS compliance is important for any business but especially for retailers. Your reputation is on the line 100% when it comes to protecting your customers card data.
This means you should implement PCI DSS compliant functions to all areas of your business from eCommerce, mCommerce, in-store and over the phone.
Although more and more sales are now driven online and through mobile; in-store and telephone channels are crucial in influencing the customers impression of your business and the service provided, and data security is something that is becoming more and more important to consumers.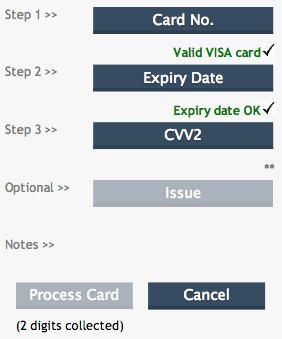 PCI-PAL have made it our mission for phone payments to be easy, 100% PCI secure, and simple to implement within all variety of contact centre environments, and technical infrastructure.
The PCI-PAL agent application integrates seamlessly into your order system, often reducing average handling time. PCI-PAL keeps the agent and customer in conversation throughout the call, with the customer entering their card details using the telephone keypad. All that the agent sees are stars appearing on-screen for each digit received, and a monotone beep in their ear. If the customer makes a mistake, the agent simpy clears the field and they start again. It really is that simple.
Behind the scenes we send the transaction data to your chosen payment gateway and reconcile the response however you require it to be sent.
PCI-PAL will de-scope your contact centre from the requirements of PCI DSS and give peace of mind to your customers that their personal data is handled securely when making orders over the phone. As a cloud solution, PCI-PAL can easily be rolled out to stores who take payments over the phone as well as your main contact centre; with no need for high capital expenditure or complicated hardware installation.
Speak to one of our consultants today to find out how PCI-PAL can help your retail business with the challenges of PCI DSS compliance on 0330 131 0330.