Jabra launches new Q2 cashback promotion – Offers on professional contact centre headsets and speakerphones to provide UK and Ireland-based customers with another way to save money on their purchases

Pioneering audio device manufacturer Jabra has kick-started its quarterly cashback offers for Q2. The new offers provide existing and new customers with a quick and easy way to save money on the most popular Jabra professional audio device devices.
The promotion, available from today and valid until 30th June, 2019, provides customers with a cost-effective way to claim back a proportion of the cost on selected Jabra headsets and speakerphones. Within the promotion period, customers simply have to purchase the devices that offer cashback from an authorised Jabra reseller partner, in any amount up to the maximum quantity and claim via the Jabra cashback website: www.jabra.co.uk/offers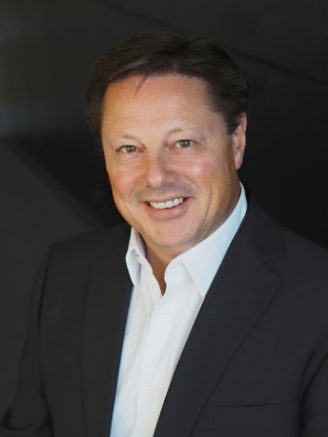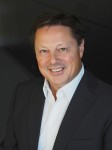 Nigel Dunn, Managing Director, Jabra EMEA North region said,
"Our latest Q2 Jabra cashback promotions gives our valued customers an opportunity to save money when they invest in professional audio device devices throughout spring and early summer.
Whether it's to support the adoption of a Unified Communications deployment contact centre agents needing to upgrade their vital headset technology, or to support the quick and easy connection to conference calls, it's now easier than ever for organisations to meet their Voice objectives in a cost-effective way. This promotion reflects our constant commitment to provide Jabra customers with value for money and an unrivalled audio experience."
Products included in the Q2 cashback offer include: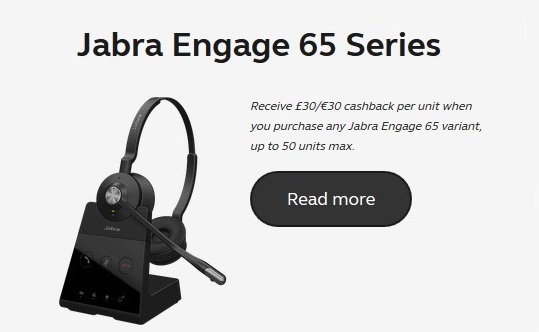 Jabra Engage 65
£30/€30 cashback per unit, all variants, up to 50 units max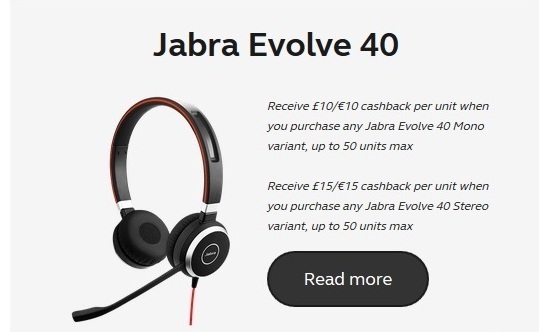 Jabra Evolve 40
£10/€10 cashback per unit for Mono variants, up to 50 units max
£15/€15 cashback per unit for Stereo variants, up to 50 units max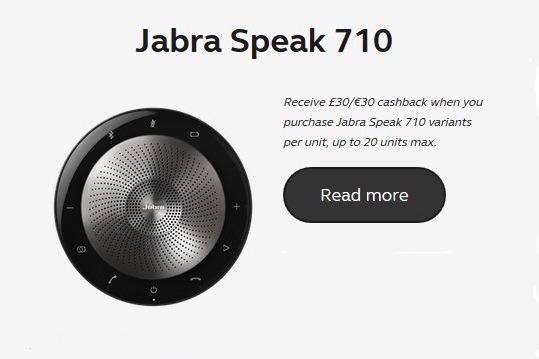 Jabra Speak 710
£30/€30 cashback per unit, up to 20 units max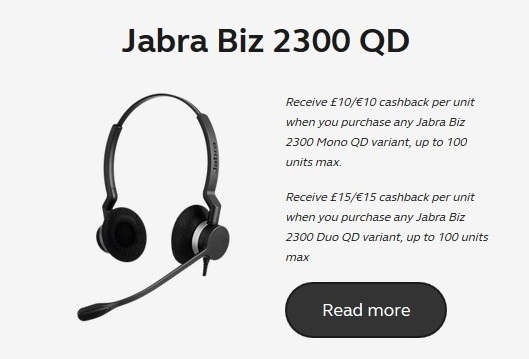 – New for Q2: Jabra Biz 2300 QD variants only (USB variants excluded):
– £10/€10 cashback per unit for Mono QD variants, up to 100 units max
– £15/€15 cashback per unit for Stereo QD variants, up to 100 units max


For more information, full terms & conditions and customer claim form Click Here – speak to your Jabra Account Manager, or call our ISE Team on 01784 220182
Jabra is a leader in engineering communications and sound solutions – innovating to empower both consumers and businesses.
Proudly part of the GN Group, we are committed to letting people hear more, do more, and be more than they ever thought possible. Through sound, we help transform lives. Jabra engineering excellence leads the way, building on 150 years of pioneering work. This allows us to create integrated contact centre headsets and communications tools that help professionals work more productively; and wireless headphones and earbuds that let consumers better enjoy calls, music, and media. Jabra employs close to 1,100 people worldwide, and reported annual revenue of DKK 4bn in 2017. The GN Group, founded in 1869, operates in 100 countries and delivers innovation, reliability, and ease of use. Today, GN employs more than 5,500 people, and is Nasdaq Copenhagen listed.
For additional information on Jabra visit their Website or view their Company Profile