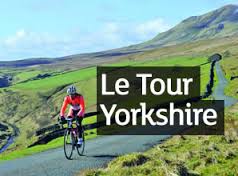 Azzurri Communications successfully supported North Yorkshire County Council to ensure seamless communications and connectivity during the Grand Depart of the Tour De France 2014 on July 5th and 6th in Yorkshire.
With up to 2.5 million people along the route in Yorkshire watching the world's biggest cycle race get underway, North Yorkshire County Council were faced with an enormous challenge to ensure their part in this high profile event went off without a hitch. With just over half of the course taking place in North Yorkshire, it was essential that the Council was able to ensure high quality, available and resilient communications throughout the 2 day period during which 'Le Tour' passed through the county.
Gavin Booth, Service Manager at North Yorkshire County Council said, "With millions of people having come to North Yorkshire to watch the race, we inevitably saw a huge spike in inbound calls during this very busy period. With the eyes of the world on Yorkshire and the locals embracing this historic sporting event, it was essential that we were able to ensure that it passed off seamlessly and our Azzurri communications infrastructure had to be up to the challenge. I'm glad to say it all work beautifully."
There were two main elements of the communications infrastructure which were mission critical to delivering a successful event. Firstly, there was the deployment of two Bronze Command Centres which acted as the central communications and co-ordination hubs for the race itself. Each Centre consisted of a Mitel IP Telephony (IPT) solution with built-in Disaster Recovery capabilities to be able to easily switch locations in the event of the inability to access either location.
Secondly, the Council established a customer service centre to ensure a quick, accurate response to visitors, spectators and locals alike requesting key information about the Tour including race timings and routes, road closures, camping details and car parking queries. The customer service centre included an overarching Interactive Voice Response (IVR) service to help direct callers simply and swiftly to the right department, helpline or district council to resolve their queries.
Gavin Booth continued, "An event of this scale pushed everyone to the limit in terms of dealing with logistical and organisational challenges. The partnership between our in-house IT team and Azzurri ensured the Mitel IPT systems and contact centre technology in the customer service centre were available, reliable and contributed to an a immensely successful event which we are proud to have put on. In particular the overarching IVR system, which was deployed by our in-house IT team and Azzurri to a tight deadline, helped us to deliver a great experience to our citizens and visiting tourists alike by ensuring each call was routed through the correct destination. We saw an increase in call volumes of 20%, but for 62% of those calls the information provided by the IVR satisfied their query."
North Yorkshire County Council has been an Azzurri customer since 2006 taking VoIP and contact centre services as part of a managed service. Geographically the biggest county in England with a population of 595,500 served by over 20,000 council staff, over the years the solution has grown constantly to encompass a number of other district councils over 170 locations and 4,500 IPT users. In 2012, the contact was renewed and extended to include SIP Trunking services.