Aspect Webinar – Understanding What Your Agents are Thinking – Agent Index Report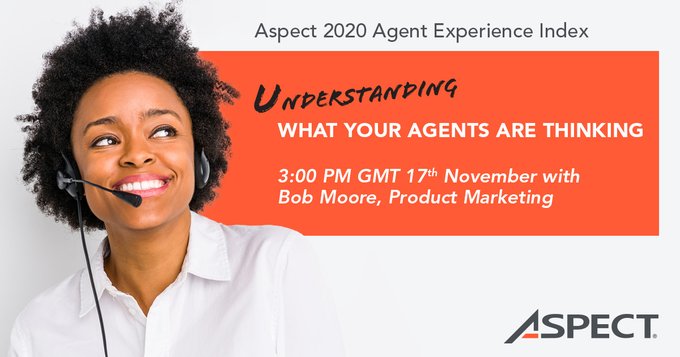 Creating a workplace environment that supports agents' needs and desires can help your contact centre reduce high turnover rates, while at the same time setting agents up for success. But to do that, you need to understand what is most important to today's workforce.
Every year, Aspect conducts a survey of over 500 contact centre agents to find out how their attitudes and preferences may be changing.
Key learning outcomes include:
– How the contact centre is changing quickly and what major structural changes have occurred in the past 2 years
– Understanding how work-from-home (aka "remote") agents have different needs and wants than on-site agents
– How contact centres need to understand these new dynamics and adapt WFO tools and culture accordingly
– How top performers can be identified during the hiring process as well as early on in their careers

Tuesday 17th November at 3PM GMT
To Register for this Webinar Click Here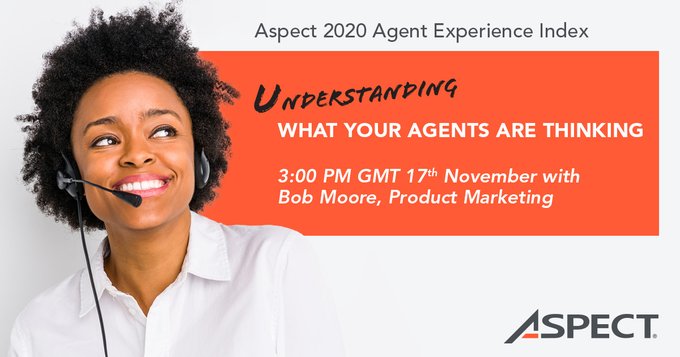 Aspect is on a mission to simplify and improve customer engagement. Our enterprise software is used by millions of agents every year and supports billions of consumer interactions around the world. Our best-of-breed contact center and workforce optimization applications help companies keep contact centre agents engaged while providing exceptional customer service experiences. Our flexible, highly scalable solutions for self-service and live interaction management and workforce optimisation are available on-premises or in any hosted, private or public cloud environment.
For additional information on Aspect view their Company Profile