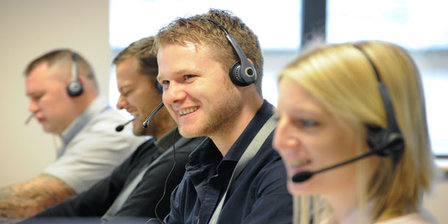 Research and Markets  has announced the addition of the "Contact Centres Market Report 2015" report to their offering.
The past few years have seen the UK contact centres market continue to strengthen in the wake of the recession and weakened economic environment, with total market turnover rising by an unprecedented 11% in 2013 alone, according to data compiled by National Statistics. A combination of factors have served to drive this stronger than expected market growth, including the continued emergence of the UK as a service-led economy, an ongoing trend towards re-shoring contact centre operations back in the UK, and the centralisation of the contact centre as a key element within customer service-led corporate strategies.
Other channels to display stronger growth in recent years including web chat, mobile applications and video chat, although the latter two are often highly expensive to implement and are therefore currently offered by only a small proportion of contact centres in the UK. Nonetheless, the launch during 2013 of Amazon's new video chat tech support feature Mayday for its new Kindle Fire tablet device, which allows users to summon a live video chat with a support technician and has already been widely touted as a success by the e-tailer, is likely to result in a number of large companies following suit, particularly given the rapid uptake of video chat applications, such as Skype and Facetime.
Over the next few years, the UK contact centres market is expected to continue to observe year-on-year growth owing to the continued rollout of superfast broadband and improved 4G mobile technology, although growth is likely to slow somewhat between 2014 and 2019 as the pace of the economic recovery begins to decelerate. Certain vertical sectors, however, are likely to perform more strongly than others, with financial, insurance, technology and outsourcing all set to continue to observe stronger than average growth, while the public sector is expected to decline, following the rollout of further punishing rounds of spending cuts and staff redundancies during the next Parliament as the Government continues in its efforts to reduce the UK's budget deficit.
Key Topics Covered:
Foreword
Introduction and Definition
Executive Summary
What's KEY in the Market?
Market Size, Segmentation and Forecasts
Work In Call and Contact Centres
In-House and Outsourcing
Marketing and Outbound Calls
Contact Centre Software and Technology Solutions
International Perspective
Competitor Analysis
Consumer Dynamics
Strengths, Weaknesses, Opportunities and Threats
PESTEL
Further Sources
Understanding Consumer Survey Data
Companies Mentioned
Accenture (UK) Ltd
Arvato Ltd
Capgemini UK PLC
Capita PLC
Serco Group PLC
Sitel UK Ltd
Steria Ltd
Teleperformance Ltd
The Innovation Group PLC
Vertex Group Ltd
---
For more information visit Research & Markets Website