Jabra UK&I is very sad to announce the passing of Corporate Account Manager Fahad Quadri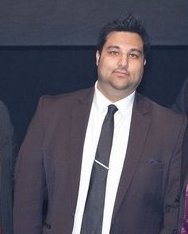 It is with great sadness that audio device manufacturer Jabra has to announce that their much loved colleague Fahad Quadri, UK&I Corporate Account Manager has passed away suddenly.
Fahad joined Jabra in January 2015 as Team Leader for the newly created Inside Sales Team. He showed great promise and commitment from the very start and was quickly promoted to Corporate Account Manager within his first 8 months at the headset vendor.
Prior to joining Jabra Fahad worked at Outbound, Jabra's partner agency where the later part of tenure was spent working directly with Jabra channel partners to maintain and grow their audio device customer base.
Steven Whitehead, Jabra Corporate Account Director and Fahad's manager commented:
"Fahad was an exceptional individual, an awesome colleague and a beautiful human being that I know will be missed tremendously by friends, colleagues and clients across the world."
Nigel Dunn, Jabra UK&I Managing Director echoed Steven's sentiments by saying:
"Fahad was one of the most exceptional people I have had the pleasure of knowing and working with. One of our brightest stars has left us far, far too early. Our hearts go out to his family who adored him."
Perry Sanger, Publisher contact-centres.com.
"I had the pleasure of meeting Fahad a few times at one of the many Jabra events and exhibition stands and echo the thoughts of Nigel in that he was an exceptional, talented but overall 'one of the nice guys."
---

Additional Information
A charitable fund has been created by Fahad's family to raise money in his memory.
For details of this please contact Jabra UK&I