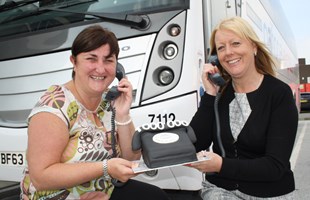 National Express's customer contact centre is celebrating after helping its millionth customer in a year and being shortlisted for a top national award for being one of the best places to work in the UK.
As it took the millionth call, it was revealed the UK's largest coach operator's contact centre was shortlisted for the prestigious national Contact Centre Association Excellence awards in two categories.
Going head to head with other top companies, National Express was nominated for a customer service team of the year award and a great place to work award.
In celebration of the nominations the national coach operator created a special phone cake for staff at the 24/7 contact centre to enjoy.
Based at National Express's head office in Birmingham Coach Station, the contact centre is one of the biggest in the region, employing a team of nearly 200 staff.
The centre is the front line in terms of dealing with customers' issues including: queries, bookings, complaints and sales.
Customers have a huge range of ways of getting in touch with the centre including: email, text, live chat, social media, phone and even hand written letters.
As well as calls the contact centre has handled nearly 230,000 other types of communication so far this year.
Meanwhile customers have given the centre a 94 per cent satisfaction rating in a post call survey.
National Express UK Coach Customer Experience Director Karen Beasley said: "It's fantastic to see our contact centre being nominated not once but twice for this highly prized award.
"We've worked very hard to make the contact centre a great place for staff to work, and in return they have delivered great results. These nominations just underline the hard work, skill and dedication of our staff.
She added: "Customers are at the heart of all we do so it's absolutely vital that we have a high performing contact centre to make sure all journeys go as smoothly as possible".
Award winners will be announced on the 26 November at the National Museum of Scotland in Edinburgh in front of more than 700 guests.
Photograph Caption: Claire Horvath, National Express Coach Process Improvement Manager and Karen Beasley, National Express Coach Customer Experience Director