Aspect Via: Powerful Reporting & Analytics
Drive Efficiency and Service Improvements Using Advanced Call Centre Reporting and Analytics
Omni-channel interactions and the contact centres that enable them to generate more data than ever before, but companies must be able to easily sift through "Big Data" and turn it into useful information to drive efficiency and service improvement.
Designed for an Omni-Channel World
Instead of separate applications for each component in a contact centre, Aspect Via® utilises a reporting layer that connects the service organisation from end to end, understanding that each facet of a company relies on the others for high performance.
Visualise your customer's journey across self-service and live customer service channels.
– Track customers through all channels and view as a single report
– View channel data in real time to identify rising trends
– Create modern KPIs tailored to new interaction channels
Modern & Intuitive Interfaces for All Users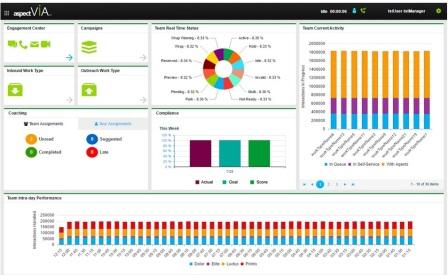 Aspect Via Reporting & Analytics is built on a HTML5 foundation for a rich and dynamic experience.
– Visualise data across all channels and drill down for more granularity
– Display results in a wide variety of graphs, reports and visualisations including word clouds
– Personalised, role-based UX for agents, team leads, and administrators
– Contact Centre Agents, Supervisors and Administrators view the KPIs and custom statistics most important to their roles through the same intuitive, modern user interface
Shared Reporting Across All Capabilities
Leverage a single, unified reporting layer to simplify analysis of greater amounts of connected data.
– Omni-channel Self-service and Live Agent Engagement
– Proactive Outreach
– Workforce Management
– Performance Management
– Quality Management
---
Additional Information

For additional information on Aspect Via Click Here
Aspect helps enterprises break down the walls between people, processes, systems and data sources, empowering organisations to unite around the customer journey. Our customer engagement centre offers native interaction management, workforce optimisation and self-service capabilities that drive dynamic, conversational interactions and create a truly frictionless omni-channel customer experience. Leveraging all the benefits of the cloud and over 40 years of industry ingenuity, Aspect conveniently and easily connects questions to answers while helping enterprises keep service levels high and operational costs contained.
For additional information visit the Aspect Software Website or view their Company Profile