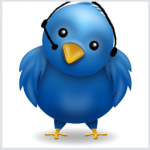 We launched our Twitter account, @contactcentres, back in August 2014 as an additional medium in which to promote and distribute our news content.
We think we have been quite successful in a relatively short period of time!
In line with our Company Policy of advising our sponsors, advertisers and readers of the performance of our website we detail what we have been doing on social media .
| Month | Tweets | Impressions | Profile visits | Mentions | New followers |
| --- | --- | --- | --- | --- | --- |
| Jan 2015 | 106 | 20.5K | 480 | 61 | 79 |
| Feb 2015 | 93 | 21.2K | 500 | 56 | 96 |
| Mar 2015 | 163 | 39K | 626 | 68 | 94 |
| Apr 2015 | 122 | 30.7K | 434 | 62 | 102 |
| May 2015 | 219 | 44.5K | 794 | 148 | 83 |
| Jun 2015 | 362 | 43.2K | 756 | 112 | 69 |
| Jul 2015 | 72 | 26.1K | 550 | 102 | 62 |
| Aug 2015 | 91 | 22.4K | 451 | 92 | 62 |
| Sep 2015 | 137 | 30.9K | 911 | 128 | 118 |
| Oct 2015 | 106 | 30.7K | 758 | 91 | 66 |
| Nov 2015 | 125 | 34K | 724 | 86 | 69 |
| Dec 2015 | 132 | 38K | 1,029 | 101 | 86 |
| Jan 2016 | 62 | 28.1K | 741 | 37 | 52 |
| Feb 2016 | 94 | 37.5k | 758 | 89 | 93 |
| Mar 2016 | 107 | 46.3k | 628 | 63 | 96 |
| April 2016 | 116 | 49.6k | 675 | 108 | 55 |
| May 2016 | 124 | 70.1k | 825 | 131 | 84 |
| June 2016 | 129 | 57.2k | 847 | 102 | 67 |
| July 2016 | 139 | 53.4 | 787 | 112 | 42 |
| Aug 2016 | 105 | 42.9 | 605 | 59 | 71 |
| Sept 2016 | 156 | 47.2 | 917 | 122 | 57 |
| Oct 2016 | 118 | 53.4 | 733 | 215 | 46 |
| Nov 2016 | 134 | 51.1 | 856 | 75 | 68 |
| Dec 2016 | 61 | 35.0 | 598 | 77 | 54 |
| Jan 2017 | 58 | 39.8 | 578 | 94 | 44 |
| Feb 2017 | 105 | 39.9 | 750 | 96 | 30 |