Webinar: Engaging with your human workforce in a digital workplace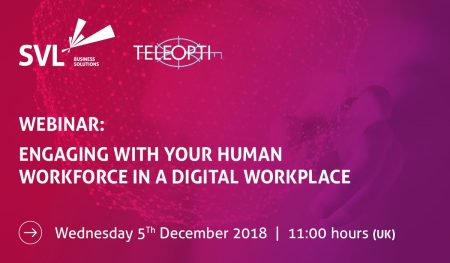 Join SVL for an interactive webinar with our partners Teleopti covering the latest developments in workforce management and employee engagement.
This will take place on Wednesday 5th December at 11.00am UK time and will last for 35 minutes
Some key takeaways for this event are:
– How technology can support employee engagement in your contact centre
– How you can reduce attrition and shrinkage across your workforce
– What tomorrow's agents will expect of their employers and how today's market leaders are preparing for this challenge
Our subject matter specialists for this webinar are Donna Baxter, Workforce Planning Specialist for SVL Business Solutions and Ben Willmott, who is Customer Lifecycle Manager at Teleopti. The event will be hosted by Anne Holmes from SVL.
To register for this event Click Here