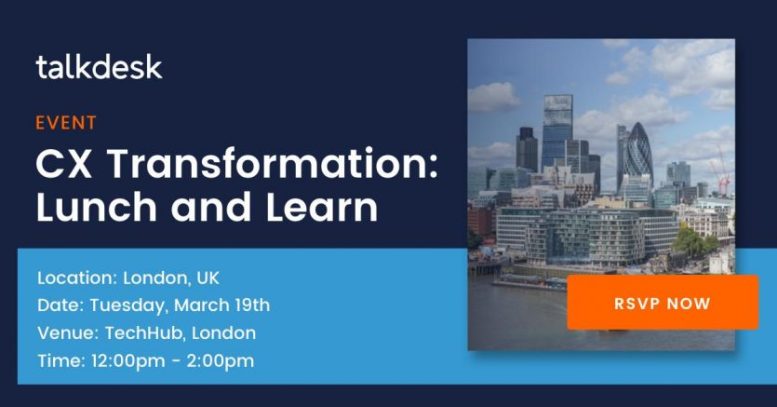 Join your fellow contact centre and customer experience colleagues at our London thought leadership networking event. The idea is that we meet up to network, share ideas around contact centre objectives, and discuss topical themes affecting the contact centre industry.
At this event, industry expert and thought leader Gerry Brown (AKA the Customer Lifeguard) will be discussing the latest trends in the contact centre space and how companies can stay ahead of their competition when it comes to developing CX strategies.
Be sure to reserve your spot today as spaces are limited!


Tuesday, March 19th 2019 – 12:00 P.M. until 2:00 P.M. – TechHub 20 Ropemaker St, London EC2Y 9AR
To reserve your place Click Here
Talkdesk Enterprise Cloud Contact Centre empowers companies to make customer experience their competitive advantage. With enterprise-class performance and consumer-like ease of use, Talkdesk easily adapts to the evolving needs of sales and support teams and their end-customers, resulting in increased customer satisfaction, productivity and cost savings. Over 1,400 innovative enterprises around the world, including Discovery Education and Peloton, rely on Talkdesk to power their customer interactions.
For additional information on Talkdesk visit their Website or view their Company Profile