CX Analytics Summit London:
a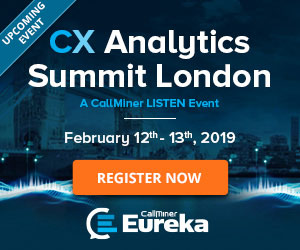 CallMiner LISTEN event is an industry leading event for customer engagement analytics professionals, bringing together top organisations using intelligence from interactions in the contact centre.
Attend this FREE event to hear from analysts, executive thought leaders, and product innovators. Learn best practices from the UK's leading industries on how CallMiner Eureka is improving their sales, operations, agent performance and customer experience.
Join us for this educational and interactive event including separate tracks for executives, business program owners and analysts.
12th February 2019
In these sessions for analysts, CallMiner experts will share approaches to solving complex problems with Eureka solutions.
1400-1500 – Search Syntax Best Practices
1500-1600 – Advanced User Syntax Tips and Tricks
1600-1700 – Achieving Success with CallMiner Eureka- The Six Sigma DEMAIC Process
1700-1830 – Cocktail Reception
13 February, CX Analytics Summit
0800-0900 – Breakfast
0900-1200 – Morning General Sessions
State of Customer Experience Industry
The Evolution of Artificial Intelligence in Analytics
2 Customer Case Studies
Morning Break
Product Roadmap Overview
1200 – 1300 – Lunch
1300 – 1600 – Afternoon Breakout Sessions
In the Know Sessions = CallMiner Eureka users who want more info
Want to Know Session = New to speech analytics and want to learn more
1300 – 1350
In The Know – Incorporating Multi Channel Into Your Program
Want To Know – Eureka & Coach Demo Through Different Lenses
1400 – 1450
In The Know – Building Predictive Scores With and Without AI
Want To Know – Quick Wins – Achieving Results in the First 90 days
1450-1515 – Afternoon Break
1515 – 1600
In The Know – Keeping Your Speech Analytics Program on Track
Both – Migrating from Manual to Automated Scorecards
1600 – 1700 – Wrap-up General Session / Closing Remarks
1700-1830 – Cocktails & Networking
Location: 30 Euston Square, Euston, London
For additional information or to register for this event Click Here