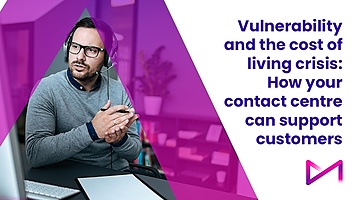 From 11.00AM until 12.00PM
At Virtual/Online
Additional Information/Register
With the number of vulnerable customers set to rise as the cost-of-living crisis impacts people's finances and mental health, many companies are unprepared to deliver the specific support vulnerable customers now need.
According to the Financial Conduct Authority (FCA), 27.7 million adults in the UK currently fall under the definition of a vulnerable customer. With this number increasing, what can businesses do to meet customers' needs?
Join MaxContact's Sean McIver alongside Helen Lord, CEO of the Vulnerability Registration Service, and Sandra Thompson, Founder of the EI Evolution, as we discuss how contact centres can support vulnerable customers during the cost-of-living crisis and beyond.
What you'll get from attending:
 - Access to advice from industry experts.
 - Actionable tips to improve the level of support you offer vulnerable customers.
 - Access to research that shares what vulnerable customers think of customer support they've received and what they really want from a business's customer service.
 - How to train your staff in supporting vulnerable customers effectively, whilst protecting their own mental wellbeing.
 - Live Q&A – ask our panellists anything.

MaxContact is a customer engagement technology company with a difference. It was founded in 2015 by a group of contact centre professionals who had become frustrated with providers that over promised and under delivered on features, support and resilience. It's now one of the fastest growing contact centre specialists in the UK with a 97% CSAT rating and over 100 customers. The company was ranked one of the top 50 fastest growing technology companies in the North by the Northern Tech Awards in 2021 and 2022.