From 12:00PM until 1:00PM
At Virtual/Online
Additional Information/Register
CCMA
Our industry has had to work through major challenges as the pandemic has thrown opportunities and threats our way.
Here at the CCMA we have continued to monitor and review the changes through the Evolution of the Contact Centre research initiative and are delighted to bring you the latest findings.

This is the fifth part of the Evolution of the Contact Centre programme. In this edition, we are exploring how contact centre leaders are collaborating with other areas of the business, with a particular focus on working more closely with marketing to better inform product development or sales enablement.
Join us as we reveal the latest insights from the research that is in field in January. Stephen Yap will share the key themes identified and talk to:
 - James Blackwood, Head of Contact Centre at Eurostar
 - Michael Gartside, Head of Customer Operations at Practice Plan
 - Jonathan Allan, Chief Marketing Officer at Puzzel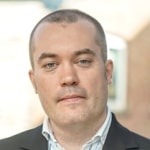 James Blackwood, Head of Contact Centre at Eurostar
James has been at Eurostar for 23 years in a variety of roles including Ticket Office Manager and Operations Manager in St Pancras, as well as managing our UK-based train crew.
James is currently Head of Contact Centre, and is delivering a strategy to make sure their customers can self-serve effectively through AI and automation, and their Contact Centre teams have tools at their disposal to easily assist those customers who genuinely need their help.
Business leaders, contact centre and operational leaders
Hear the latest findings in how contact centre operations are evolving strategically


The Call Centre Management Association (CCMA) is the longest established association representing the call centre industry in the UK.
We support contact centre managers through providing opportunities to network; to openly share best practice and to increase their skills and knowledge through specialist training.
Our aim is to offer timely and impartial advice to our members; to keep contact centre leaders in touch with changes in their industry; to provide credible benchmarking information and to help individuals maintain an awareness of the latest trends and developments.
Our membership association is not for profit, and our board is made up of people who work full time in the industry in operational roles. We are run by our members for our members.
For additional information on the CCMA view their Company Profile