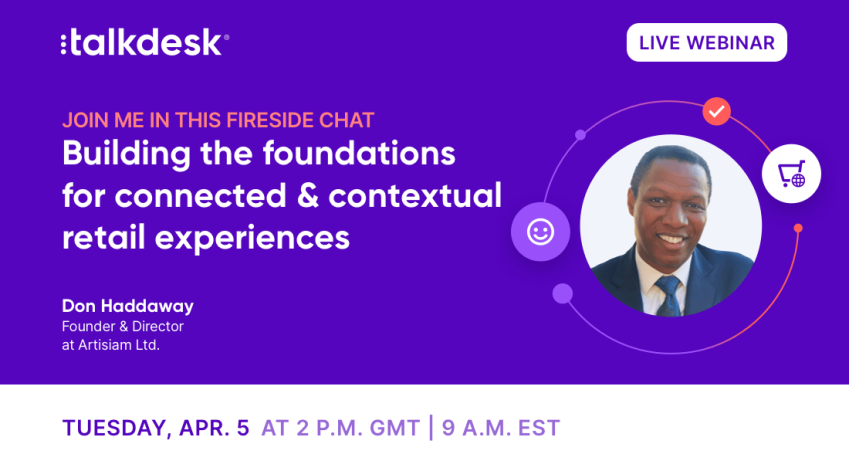 From 2:00PM until 3:00PM
At Virtual/Online
Additional Information/Register
Building the foundations for connected & contextual retail experiences
Join Talkdesk for a fireside-style conversation with advisor and customer experience innovator Don Haddaway. These two retail experts will provide a quick review of must-know retail trends for 2022, and then a detailed discussion about how retailers can take action in order to build more engaged, fully connected experiences across all channels.
Topics will include:
 - Getting back to basics – Build the right foundations to drive loyalty & customer retention.
 - Today's practical AI use cases – How to position yourself for success.
 - Focus on employee experience – Why you should focus on your employees to drive exceptional customer experiences.
 - Digitisation – Why you should unify digital and physical channels.
The session will conclude with actionable takeaways and include audience participation Q&A.
We'll see you there!

Talkdesk® is a global cloud contact centre leader for customer-obsessed companies. Our automation-first customer experience solutionsoptimise our customers' most critical customer service processes. Our speed of innovation, vertical expertise, and global footprint reflect our commitment to ensuring that businesses can deliver better experiences across any industry and through any channel, resulting in higher customer satisfaction and accelerated business outcomes.
For additional information on Talkdesk view their Company Profile