Traffic – Traffic – Traffic!
A website is normally judged as being successful by the number of subscribers and visitors to the website that it attracts.
Should this be the case, and using the stats for October 2016, we attracted the highest ever figures for the website for visitors, unique visitors and subscribers since our launch in September 2001 or 15 years ago!
Our number of visitors to the website during October 2016 reached over 140,000 with an unprecedented 91% being UK based.
Our subscriber database was increased to 12,400 which represents 4,750 UK contact centre sites – again unprecedented levels.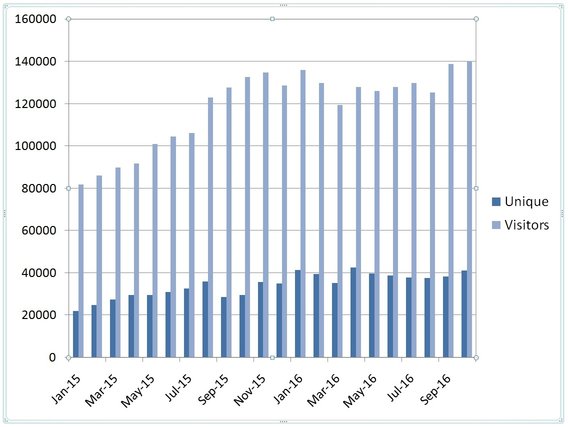 The question is how do we achieve these dizzy heights of attracting both subscribers and visitors?
– We ONLY publish editorial applicable to the UK contact centre industry.
– Using Google we ONLY target the UK – Whilst it would be easy for us to change our target audience to 'World-wide' and our stats be increased 10-fold would our sponsors and advertisers really want enquiries from overseas? (and no doubt pay more to attract these!)
– Each time that we publish any editorial on the website it is automatically updated on social media and LinkedIn
– Our website sitemap is automatically updated and submitted to Google – It's no wonder that normally within minutes the news piece appears on the Google news feeds and their search engine.
– We introduced an updated Daily Newsletter format which, in addition to advising our 12,400 UK based subscribers of the latest news, also prompts the subscriber to visit the website.
We think that we have done well during October 2015 – Indeed one of my colleagues commented that if we were a Pupil at School we would have achieved an A- score. Why so low I asked? Because 'everything can be improved' was the reply.
I guess that we will be working harder during November 2016!
The Editor