Speech Automation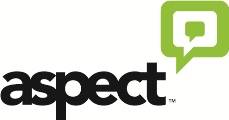 ACD, Agent Desktop, Agent Scoring, Analytics, Cloud Solutions, Customer Feedback, Customer Satisfaction, Hosted Solutions, IVR, Knowledge Management, Multi-Channel Solutions, Multi-Site Routing, Multimedia Recording, Outbound Dialling, Performance Management, Quality Monitoring/Reporting, Screen Recording, Self Service, Speech Automation, Voice Recording, Workforce Management
Aspect Software is the only software company with a fully-integrated interaction and workforce optimisation platform for enterprise contact centres globally that need to profitably (and seamlessly) orchestrate people, processes and touch points in an era when the contact centre is the new centre of the customer experience.
We believe that today's consumers own the conversation, choosing when, where and how they communicate. That the emergence of dynamic, web-based and very public consumer communication channels is thrusting the Contact Centre into the leadership role for delivering an excellent experience to these highly conversational consumers. Those organisations that anticipate and adapt to this "relationship revolution" will be better poised to build long-term customer loyalty and value. That Aspect has the only Contact Centre product suite that can work across all channels, in any environment and throughout the organisation to deliver remarkable customer experiences.
ACD, Agent Desktop, Analytics, Back Office, Call Back, Cloud Solutions, Contact Centre Technology, CTI, Customer Experience, Diallers, Hosted Solutions, IVR, Mobile Solutions, Multi-Channel Solutions, Multi-Site Routing, Multimedia Recording, Outbound Dialling, PBX/IP-PBX, Performance Management, Quality Monitoring/Reporting, Self Service, Social Media, Software Solutions, Speech Automation, Virtual Solutions, Workforce Management
Thousands of companies and organisations of all sizes around the world rely on Genesys every day to delight customers by powering optimal customer experiences and journeys with the award-winning Genesys Customer Experience Platform.
Genesys has experts who help organisations across many industries design and deliver optimal customer journeys, using people, processes and technology required to deliver the journey across all touchpoints, channels and interactions. Genesys experts combine strategic business insights with hands-on, practical experience gained from thousands of implementations to help you get to market faster, increase your productivity, and achieve measurable business results.
At the heart of the Genesys Customer Experience Platform is patented technology that allows companies to easily optimise the distribution, commonly called routing, of all interactions, cases and back office tasks in such a way that it delivers a highly differentiated customer experience and the lowest cost of operations. It does this by directly routing each specific item in priority order to the optimal person at any location or in any organisation. The optimal person is someone who has the most appropriate skill set to engage in the activity and is available in an SLA acceptable time period. Additional business rules beyond skill and availability are simply added.
This optimisation delivers the highest first contact resolution and SLA adherence possible while also improving workforce efficiency and lowering cost of operations. As a result, you can align the customer experience you provide with the value a customer represents over all touchpoints, channels and interactions, including the adherence to back office work SLAs. This capability is part of the Genesys Customer Experience Platform, and along with the entire platform, delivers a differentiated customer experience that will increase your customer loyalty, reduce churn, increase revenue and lower cost.
The Genesys Customer Experience Platform delivers comprehensive and integrated best-in-class capabilities for customer experience solutions for organisations of any size, including contact centres. The platform not only delivers customer experiences that are consistent, seamless and personalised, but are also journey-appropriate. By journey-appropriate we mean that the experience delivered, whether via self-service or human-assisted, matches the expectations of your customers, aligning with the stage and type of their present journey.
The platform efficiently manages customer engagement across all touchpoints, no matter the department in which they reside, across all channels including voice, email, chat, SMS and social, and across all interactions from the front office to back office. Customers like you commonly use the platform to power inbound and outbound contact centres, customer self service, back office productivity and mobile marketing. Highly visual, intuitive and interactive analytics help your customer experience professionals drive continuous improvements in performance and business results.
The Genesys Customer Experience Platform is available in three editions to address
the needs of businesses from the smallest company to the largest global enterprise.
The Genesys Premier Edition—Virtual Contact Centre delivers an industry-leading cloud offering for small to mid-size contact centres.
The Business Edition is designed for mid-size contact centres that require all-in-one functionality that deploys rapidly, is easy to use, and scales as your contact centre grows. With this edition, you can choose to run your contact centre in the cloud, on-premise with a pre-configured appliance or in a hybrid cloud configuration.
The Enterprise Edition is designed for large organisations that require highly scalable and customised contact centre solutions. With this edition, you can choose to run your contact centre in the cloud, on-premise or in a hybrid cloud configuration.

Agent Motivation, Agent Scripting, Applications Integration, Assessment Framework, Auto Attendant, Benchmarking, Call Analysis, Call Back, Call Handling, Change Management, Consultancy, Contact Centre Satisfaction, Contact Centre Technology, CRM, Customer Communications, Customer Experience, Customer Feedback, Customer Interaction Management, Customer Satisfaction, Disengagement, Employee Satisfaction, Engagement, Helpdesks, Integrated contact centre systems, IVR, Leadership & Management, Mobile Solutions, Multi-Channel Solutions, Omni-Channel, Online Services, Outsourced Services, Performance Management, Proactive Customer Contact, Process Analysis, Quality Management, Quality Monitoring/Reporting, Sales Performance, Self Service, Self-Assessment Framework, Self-Assessment Tool, Software Solutions, Speech Automation, Strategic Planning, Supplier Directory, Surveys, Voice of the Customer, Workforce Management
Sagaciti is a small, intimate, client-focused consultancy built on the personal integrity and experience of its Directors and Co-Founders, and on evidence-based knowledge of what works, and how to achieve it. With 70+ years unique commercial and public sector experience, we have successfully managed, improved and designed end-to-end contact centre operations at all levels.
Sagaciti helps you 'see the wood from the trees', looking at your opportunities and challenges End-to-End across your business, simplifying the complexities for you, ensuring your operation is the best it can be. This means you remain focused on the important things – delivering excellent services, growing your business, and achieving your desired outcomes.
If you are involved in Contact Centre Operations, we're confident we can help you be even better.Why not contact us and see how we might help?
What Sagaciti does:
– We use good judgement and sound evidence to help your business develop, applying practical, sustainable solutions that work in your world.
– We bring transferable learning from elsewhere to directly benefit you.
– We build personal, productive relationships through our friendly, engaging, open and honest approach.
– We provide a bespoke service – it's us who turn-up and work with you.
– We help you make the right choices to integrate new technology, systems and approaches to your business.
– We operate independently of suppliers so you can be confident our sole focus is your best interest – plain and simple.
– We're determined to provide excellent value, and are proud to be different from other consultancies, making game-changing consultancy support available to all sizes of business.
– We know technology is a critical enabler; more importantly, we understand why it's your people who make the real difference.
Sagaciti's Services:
Our bespoke services are designed to your requirements. The following provide some examples:
– Sagaciti Toolkit™ – A powerful diagnostic tool founded on our Sagaciti Assessment Framework™, developed from industry good practice and our knowledge, skills and experience.
– It collects sound empirical evidence and identifies what works and what doesn't. It's flexible and can be deployed from a Team to a Multi-Contact Centre Organisation, as a light-touch or deep-dive review.
– Used successfully in the commercial and public sectors it enables us to:
– Provide a fully evidenced assessment of the current state of your operations (an AS-IS Review);
– Provide fully evidenced findings and recommendations that work for you, enabling change-decisions that improve efficiency, effectiveness and profit;
– Provide a holistic, integrated design of the future of your operations built on the evidence(the TO-BE design);
– Develop fully evidenced Business Cases and recommendations;
– Deliver or assist with Implementation of the changes required to achieve the TO-BE;
– Provide facilitation to deliver new ways of working and process mapping.
– Note: The Sagaciti Toolkit™ is also available on licence.A Free Self-Assessment tool based on our Toolkit is available via ; http://sagaciti.co.uk/index.php/contact/subscribe-to-sagaciti-updates/
– Sagaciti Evaluations – We can provide academic evaluations, or our Sagaciti Hybrid Evaluation combining academic rigour with pragmatic and practical solutions that you can use in your world.
– Sagaciti Project and Programme Management – using Good Judgement Practically Applied™ we offer a bespoke service, based on the evidence, to provide sound recommendations, practical solutions and deliver outcomes.
– Leadership, Facilitation & Lecture Services – We utilise our considerable knowledge and skills to offer:
– Bespoke leadership programmes;
– Leadership support, mentoring and confidence building;
– Help to improve staff capability, confidence, effectiveness & outcome delivery;
– Independent facilitation, presentation and lecture services;
– We specialise in Leadership, Management, Desistance, Evidence-based policy making, and Strategic & Tactical command.
– Specialist Services – Our unique backgrounds mean we are able to offer niche services in regards to Strategic and Tactical Command (critical incidents, 'Gold/Silver/Bronze', firearms and public order through to command of the Olympic Torch), along with major & serious crime investigations (including homicide, homicide review, serious case reviews and crimes in action at PIP L3 and L4 experience).
We are always happy to talk about the challenges and issues you are facing and it costs nothing!
Please don't hesitate to contact us and see how we might be able to help.