eg Solutions Plc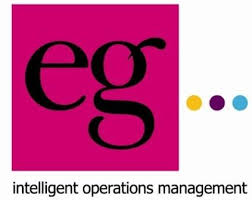 eg solutions plc is a provider of enterprise workforce optimisation software, specialising in the back office. eg pioneered this new market space and developed the most complete, purpose built workforce optimisation software for back offices – the only solution that manages work, people and end-to-end processes wherever they are undertaken, anywhere in the world.
Over 100,000 users in leading UK and international companies in multiple industry sectors, including financial services, healthcare and utilities use our software.
Using our forecasting, scheduling, real-time work management and operational analytics capabilities we deliver measurable improvements in service, quality, productivity and regulatory compliance. When supported by our implementation and training services we guarantee return on investment in short timescales – 20-40% improvement in operational efficiency while improving the end customer experience and reducing exposure to risk and compliance.
Regardless of who is serving the customer – call centre, back offices, branches or the field – our solutions provide true insight into the full customer service process and promote world-class operational management capability.
The eg operational intelligence software suite is available in the cloud, as a managed service, and on-premise.
Send Message to listing owner
eg Solutions Plc